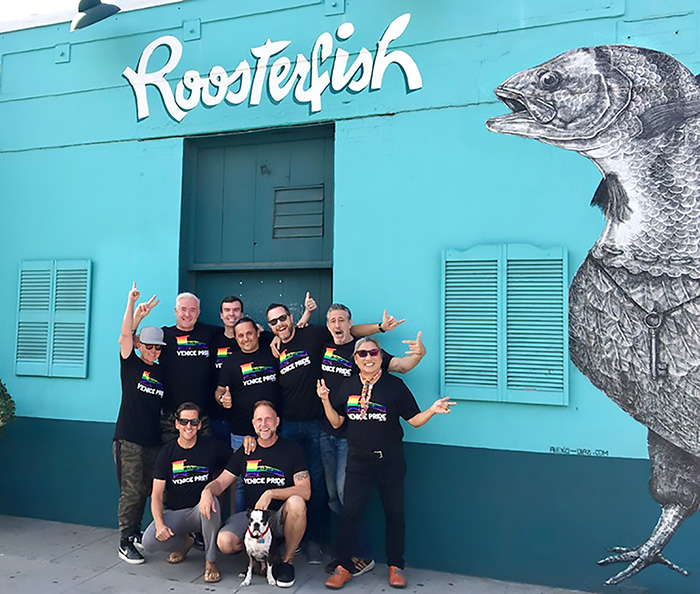 VENICE
Gay Bar ROOSTERFISH To Reopen
The popular gay bar Roosterfish is reopening by the end of this year. The bar, located at Abbot Kinney in Venice, closed last May after serving the gay community in the Westside for 37 years. According to Grant Turck, president and founder of Venice Pride, the closing of Roosterfish is what prompted him to conceive the Venice Pride event last year. Since the launch of Venice Pride, Turck and his Pride organization played a major role in establishing a permanent status for the Venice Pride Rainbow Flag Lifeguard Tower and now the revival of Roosterfish.
For more about Venice Pride, visit venicepride.org.
WEST HOLLYWOOD
Axis Mundo: Queer Networks In Chicano L.A.
The City of West Hollywood's WeHo Arts program and WeHo Artes, presents "Axis Mundo: Queer Networks in Chicano L.A." The exhibit is scheduled to run through December 31. It will map the intersections and collaborations among a network of queer Chicano artists and their artistic collaborators from the late 1960s to the early 1990s. More than two decades of artwork encompassing painting, performance ephemera, print material, video, fashion, and photography will be presented in two locations: ONE Gallery West Hollywood, located at 9007 Melrose Avenue and MOCA Pacific Design Center, located at 8687 Melrose Avenue.
LOS ANGELES
48th Anniversary Gala Vanguard Awards
The Los Angeles LGBT Center hosted the 48th Anniversary Gala Vanguard Awards last month at the Beverly Hilton with special talk show host Jimmy Kimmel. The event honored Co-CEO of WME | IMG, Ariel Emanuel and former senior advisor for the Obama administration, Valerie Jarrett.
The evening brought together more than 1,200 leaders from the civic, corporate, entertainment, and philanthropic communities to celebrate this year's inspirational honorees for their unwavering support of the LGBT community and their dedication to creating positive change in the world.
To learn more, visit: lalgbtcenter.org.
PALM SPRINGS
City Council Hopefuls Endorsed By LGBT Groups
Attorney Christy Holstege, a bisexual woman who is running for a seat on the Palm Springs City Council, has won the endorsement of a number of LGBT groups, including the national Gay and Lesbian Victory Fund, the statewide LGBT advocacy group Equality California and The Desert Stonewall Democrats–a local LGBT political club in the Coachella Valley.
Palm Springs planning commissioner Lisa Middleton, who is hoping to become California's first transgender city council person, also gained the endorsement of all three LGBT groups—however gay former Bay Area Reporter film critic and real estate agent Robert Julian Stone, who is also vying for a Palm Springs city council seat—failed to get the same support.
Palm Springs has two open seats on the city council in the November 7 elections. The three out candidates are among six people running for city council.
SAN DIEGO
Gay Couple Attacker Sentenced To Probation
Teeno Hermoso Amparana, the man who physically attacked a married gay couple in the gay Hillcrest area of San Diego last month, pleaded guilty to battery and a hate crime. The attack happened outside the Whole Foods market on University Ave. Amparana punched, kicked and threw rocks and at the couple while screaming homophobic and racial slurs. San Diego Gay & Lesbian News reports that Amparano, himself a gay man, yelled out, "You white gays think you own everything."
He was fined $655, and was ordered to pay an undisclosed amount in restitution to the victims. Additionally, he was sentenced to three years of probation, has been ordered take anger management classes, is not allowed to own a firearm for 10 years and was ordered to stay away from Whole Foods and the victims for three years.