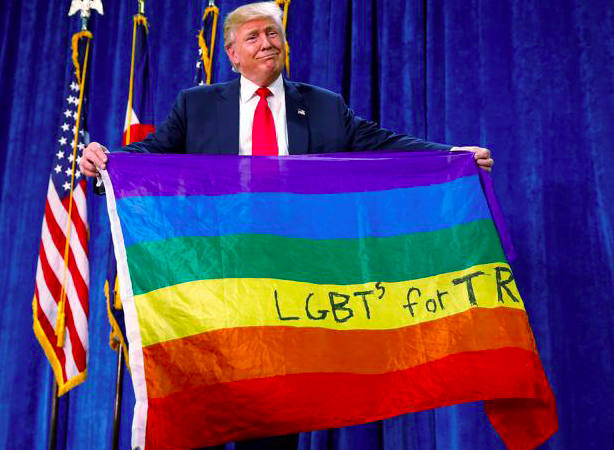 In this morning's issue, the New York Times editorial page issued a scathing rebuke to Donald Trump's so called "support" of LGBT rights.
When Donald Trump unfurled a Rainbow Flag with the words "LGBTs for TRUMP" crudely scrawled across the yellow bar last October at a campaign rally in Colorado, members of the Republican LGBT establishment fell all over themselves proclaiming a new era in Republican politics. The Times calls "shenanigans."
Citing the nomination and appointment of many individuals "who have disparaged the L.G.B.T. community and sought to curtail the rights of its members," to key positions within the Trump Administration, the NYT editorial board calls Trump's first 100 days a "catastrophe" for queer rights.
From the piece:
At the Department of Justice, where former Attorney General Loretta Lynch last year delivered an impassioned speech telling transgender Americans, "We see you; we stand with you," her successor, Jeff Sessions, wasted no time reversing course. The Justice Department in February withdrew guidance issued to schools on the treatment of transgender students, signaling that it would no longer consider their rights to be protected under a 1972 civil rights law.

The Department of Health and Human Services, which worked to expand access to health care for gay and transgender Americans, is now being led by Tom Price, who was a vocal opponent of gay rights as a congressman. The agency's civil rights office, which oversaw regulatory changes that made it easier for transgender people to get insurance coverage for medical care, is now run by Roger Severino, an ultraconservative activist who last year accused the Obama administration of attempting to "coerce everyone, including children, into pledging allegiance to a radical new gender ideology."

Mr. Obama's last secretary of the Army, Eric Fanning, an openly gay man, was instrumental in nudging the Pentagon brass to allow transgender people to serve openly. Mark Green, a Tennessee state senator nominated to replace him, last year called being transgender a "disease."

On Mr. Trump's watch, federal agencies are rolling back efforts to collect data on the needs of L.G.B.T. Americans. Last month, Health and Human Services amended two surveys of the elderly to remove a question about sexual orientation. The Census Bureau, meanwhile, has scrapped plans to include questions about sexual orientation and gender identity in the 2020 Census and the American Community Survey.