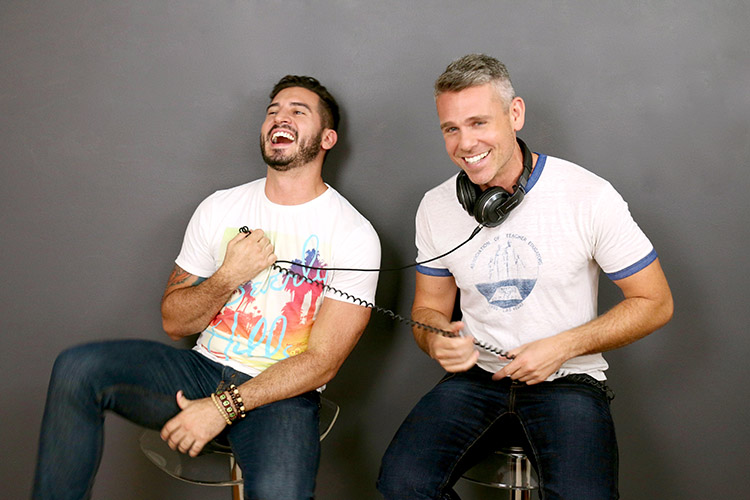 George Figares, DJ Blacklow
George Figares and DJ Blacklow Reinvent a 15-year-old Club Anthem
For Today's Dance-floor
BY JOHN STEIN | PHOTO BY SEAN JAMES MURPHY
George Figares and DJ Blacklow are well known DJs in L.A. nightlife. Blacklow's sets are noted for his big diva vocals, while Figares, a product of Miami's underground house scene, takes a more after-hours, minimalist approach to his sets and production work.
The duo united on their first musical collaboration three years ago. It was a high-energy remix of Sara Bareilles' "Brave". Since then, they have unleashed a slew of remixes to clubs including Gwen Stefani's "Hollaback Girl", Fifth Harmony's "BO$$", and a sweat-inducing tribal take on Toy Armada & DJ GRIND's "St. Elmo's Fire".
This month, they're upping the ante with their first single release, "To Be Able To Love (Remix EP #1)". It's a remake of the Jessica Folker song made popular by DJ Jonathan Peters in 2001.
"I first fell in love with the track on the dance floors of NYC," says Blacklow, recalling how, at the turn of the millennium, Junior Vasquez would play JP's remix of "To Be Able To Love" at Twilo and Peter Rauhofer and James Andersen would play it at Roxy. The song really started to become an anthem for the national gay community when DJs David Knapp and Manny Lehman began playing it at circuit events.
"George and I were looking for a big vocal track to do together and I kept finding myself gravitating towards "To Be Able to Love," continues Blacklow.
The song is about wanting to embark on a new romance but not being emotionally able to because of lingering damage from a past relationship.  Blacklow admits its a song he can relate to. "I went through a really tough break-up in 2009, during which the foundation of my life fell out from under me in a circumstance that I didn't see coming. It took many years before I was able to date again in a healthy manner. The lyrics from 'To Be Able To Love' were often played in my head."
The guys knew remaking the song would be an enormous undertaking. "Properly resurrecting the feeling and integrity of the original Johnathan Peters mix was of real concern to us," says Figares. "In order to introduce the song to a younger generation, we had to get it right."
In many ways, their version follows a similar formula as the original but with a more modern take and feel.  San Francisco-based vocalist Brenda Reed breathes new life into the track by nailing the heartbreak.  "We were familiar with Brenda and her work, but it wasn't until she demo'd some lines for us in the studio that we realized we needed to offer her the track," explains Figares. "She's got a voice like Kristine W, Erin Hamilton or Heather Small."
The remix package on "To Be Able To Love (Remix EP #1)" is equally stellar. Toy Armada & DJ GRIND deliver a gorgeous anthem in their trademark Big Room style. The UK's Lucius Lowe takes the track in a Nu-Disco direction. Division 4 & Matt Consola serve a classic house entry, while the Virgo Brothers (Orlando) present a progressive house remix reminiscent of classic Hex Hector. House of Labs from Portugal delivers an epic tribal/circuit mix, while Bret Law (Seattle) and Jay Santos' (Manila) mix bridges the gap between circuit and house.
"To Be Able To Love (Remix EP #1)" is available on iTunes. A second package will release soon. Featuring remixes by Dirty Disco, Seth Cooper, Luque & Thiago, The Perry Twins, Dan De Leon and Oosterhaus, it is sure to take the track in even more exciting directions.
---
Visit swishcraftmusic.com.