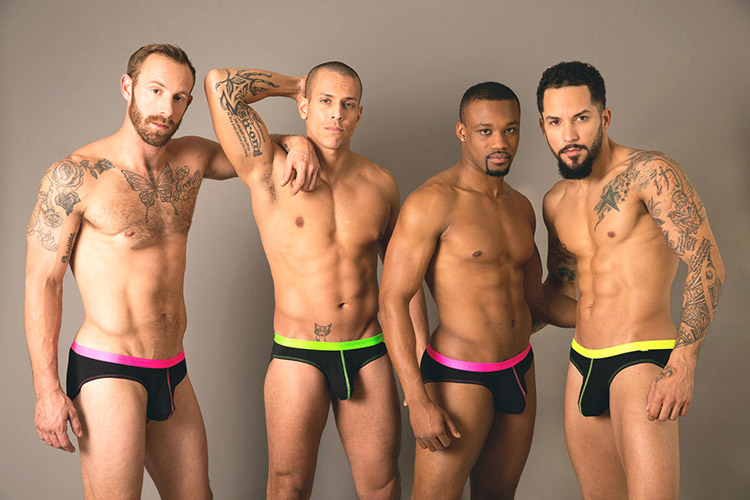 All-Male revue brings sexy sizzle to Santa Monica Boulevard in new burlesque show.
BY VICTOR MELAMED
Live and direct from the city synonymous with sexy, The WeHo parTy boys all-male revue brings West Hollywood's unique brand of sexy sizzle to life with an all new burlesque show filled with the smoothest moves and hottest grooves!
The boys are ready to take your breath away with two hours of teasing and pleasing, featuring fully choreographed dance routines, revealing costumes and provocative storylines that leave little to the imagination.
"The WeHo parTy boys represent the best of our fabulous city and the party boys who patronize our local clubs," explains choreographer Michael Silas, whose mission has been to create the most captivating theatrical-based male revue ever to come out of Santa Monica Boulevard.  "These men were chosen not only for their talent and performance skills, but also for their personalities and magnetic presence.  We can't take our eyes off of them, and neither will you!"
Although there's no doubt WeHo parTy boys' performance style of gay '"Dirty Dancing" is definitely "in your face," one member of the troupe remains a tad shy about showing his.  Each show features a performance from "The Unknown Stripper."  While his identity (and sexual orientation) remains a mystery, the red-hot moves he displays and the freedom he has to "just be himself" are truly unforgettable.
To keep the energy high and the mood sexy between each set, WeHo's first-ever duo of twink break-dancers will flip & flop and astound the crowd.
---
Join them for a special Valentine's Day performance at Sunday, Feb. 14 at RAGE NIGHTCLUB, 8911 Santa Monica Blvd. in WeHo.  Tickets and info visit:  www.wehopartyboys.com.