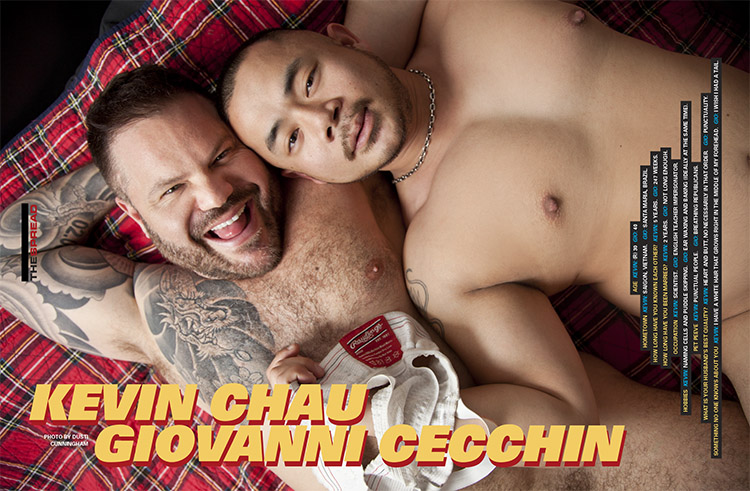 Kevin Chau
Giovanni Cecchin
PHOTO BY DUSTI CUNNINGHAM
AGE  Kevin: (R) 30  Gio: 40
HOMETOWN  Kevin: Saigon, Vietnam.   Gio: Santa Maria, Brazil.
HOW LONG HAVE YOU KNOWN EACH OTHER?  Kevin: 5 years.  Gio: 247 weeks.
HOW LONG HAVE YOU BEEN MARRIED?  Kevin: 2 years.  Gio: Not long enough.
OCCUPATION  Kevin: Scientist.  Gio: English Teacher Impersonator.
HOBBIES  Kevin: Naming cells and puddle skipping.  Gio: Ear waxing and baking (ideally at the same time). 
PET PEEVE  Kevin: Punctual people.   Gio: Breathing Republicans. 
WHAT IS YOUR HUSBAND'S BEST QUALITY?  Kevin: Heart and butt, no necessarily in that order.   Gio: Punctuality.
SOMETHING NO ONE KNOWS ABOUT YOU  Kevin: I have a white hair that grows right in the middle of my foreheaD.  Gio: I wish I had a tail.