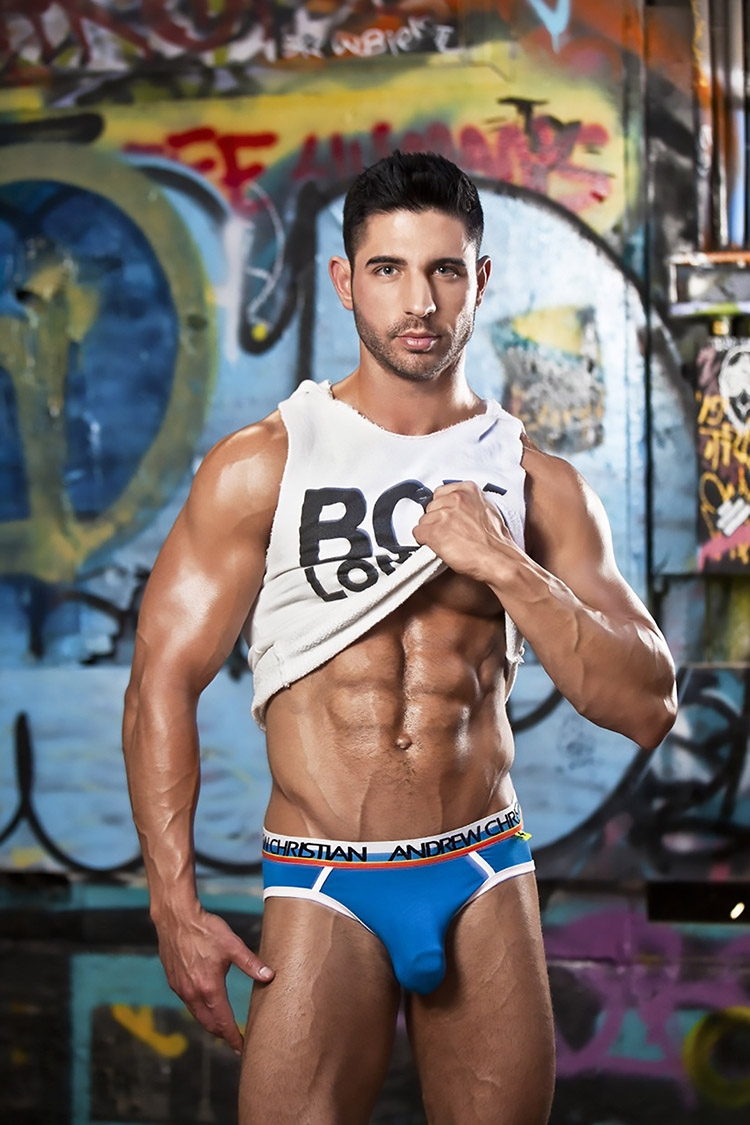 Fitness model and entrepreneur Brad Jan on beautiful people, maintaining his physique, plastic surgery and his firm belief that "we should all be multifaceted."
BY BOBBY TRENDY  |  PHOTOS BY DUSTI CUNNINGHAM
Just because beauty is skin deep—one shouldn't immediately jump to the conclusion that the stunningly hot, world renowned fitness model and entrepreneur Brad Jan is superficial, vapid, shallow, vacuous or lacking in substance.
One could say, charitably, that this California native is a confident, young, assertive businessman who knows what he wants and where he is going. And what's wrong with that?
Over the past few years Brad Jan has made quite a splash in fitness markets around the world including Miami, New York, Paris, and Hollywood. His entrepreneurial goals have led him to launch his very own signature fragrance, modestly entitled "Brad Jan."
In an interview with celebrity interior decorator, fashion designer and television personality Bobby Trendy for THE FIGHT—Jan shares his views, ever so succinctly, in an adorable stream of consciousness kind of way, on beautiful people, modeling, maintaining his physique, plastic surgery and his firm belief that "we should all be multifaceted."
 "I feel pretty lucky that I can do what I like best in perfect condition.  As doctors and scientist spend years becoming accomplished in their field, so do models as I have for the last 25 years."
How would you describe your childhood?
I was surrounded by young and beautiful people. I can't stand ugliness.
Were you ever bullied as a kid?
People were and are exceptionally nice to me… An ex left me with a scar on my face, but I kind of like it more that way. it adds character.
When did you come out to yourself, and to others?
I forgot.
What was the coming out process like for you?
It was the same after as before I came out.
Why did you decide to go into modeling?
I'm never content with just being average, that's what keeps me motivated.
What do you particularly like—and dislike—about modeling?
Some ugly people are cool. What I hate most is ugly, nasty people.
Are you more like your mother or father?
I'm more like my father. He used to say "you look like me, but not as good." And this is typically the kind of line I use.
Do you read or watch TV?
I actually don't have a TV; you don't need one living in Beverly Hills… and I'm just a model, quite superficial. Models look at fashion and fitness magazines, right?
What's your diet like?
I eat meat sometimes because my doctor wants me to—I prefer fish. I don't like animals being butchered, but I don't like humans to be butchered either, which is apparently popular in the world.
What's your ethnic background?
I don't talk about this, but I'm a Santa Barbara native. My father's side is Greek, mothers side is Italian, from Monaco originally. So basically I'm white, with
a tan.
What are your political views?
I'm into aesthetics. Let Obama do his job. Not really into voting either.
How do you keep such a healthy attitude?
I feel pretty lucky that I can do what I like best in perfect condition. As doctors and scientist spend years becoming accomplished in their field, so do models as I have for the last 25 years.
Are you interested in DNA testing to find out if there's something remarkable in your genetic makeup?
You can see me clearly as is. No need for DNA testing. It's like asking a woman to remove her bra. Take what you need and leave the rest.
How do you feel about plastic surgery?
Anything that makes you look or feel better, go for it… if you need it. Hollywood is known for a lifestyle of excess and frivolity with unintended consequences, but I don't believe in wasting. I wasn't raised that way.
How often do you workout to maintain your physique?
I'm quite spontaneous, some weeks I workout a few times, others I don't at all.
If you were not a model—what other profession would you like to have  been in?
I believe we should all be multifaceted and not just designated to one profession, that's boring. Art comes natural to me, it's like a heart beat. turning art into a business is interesting too. But thats what other people are for.
What made you decide to launch your signature fragrance, Brad Jan?
It was just like an explosion in my mind. It just came naturally.
Where do you see yourself in 10 years?
I don't celebrate the past. I'm more into the day and moment and even the future. I don't know what the future holds, it depends on my mood. I let the future come to me instead of chasing after it.
Tell us something no one knows about you.
Simpletons think I'm insane.
Is there anything else you would like to share with our readers?
I have a snow white Labradoodle. His name is Robo. His favorite food is seafood. Just like me.