Trans Chorus Of Los Angeles
The first chorus for transgender and gender-expansive people in the nation with a transgender artistic director.
BY ORLY LYONNE
On Sunday, October 19, the members of the newly founded Trans Chorus of Los Angeles (TCLA) rehearsed together for the first time, giving birth to one united voice for transgender people.
Since the beginning of the gay civil rights movement in the 1970s, the gay and lesbian community has raised their voices and visibility, while fighting for acceptance and inclusion. The Trans Chorus of Los Angeles is determined to give visibility and a voice to a community that has been historically invisible and silent. We need to hear trans voices and their stories.
The chorus encourages and fosters artistic expression and personal development in transgender and gender-expansive people and presents performances that provide the opportunity and space for all, however they identify, to say "this is a space where I am accepted for who I am and everything that I bring."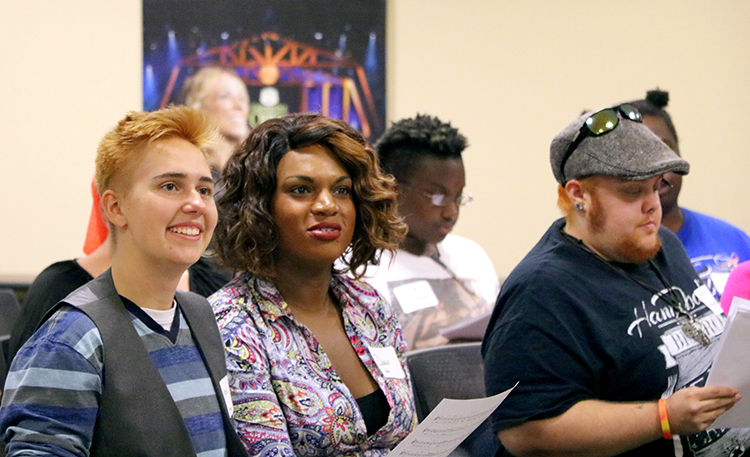 COMING TOGETHER
Led by their incredibly talented Artistic Director, Lindsey Deaton, the Trans Chorus is a natural extension of her vibrant energy and heartfelt depth. Deaton is the Founder and Artistic Director of the Diverse City Youth Chorus in Cincinnati, Ohio, the only Queer arts youth program in the state. She received the Dalcroze License from the Julliard School in New York City, and has previously apprenticed with Jesus Lopez-Cobos, conducting the Cincinnati Symphony Orchestra.
One of the biggest struggles transgender people face, both before and after transitions, is when their voices and bodies do not seem to go together. TCLA will help transgender people find their voices while living their true, authentic lives. "My voice is one of the very few things that betrays me—many males transitioning to female are constantly mis-gendered because of their voice," Deaton said. "It will be very interesting to see all of our voices come together."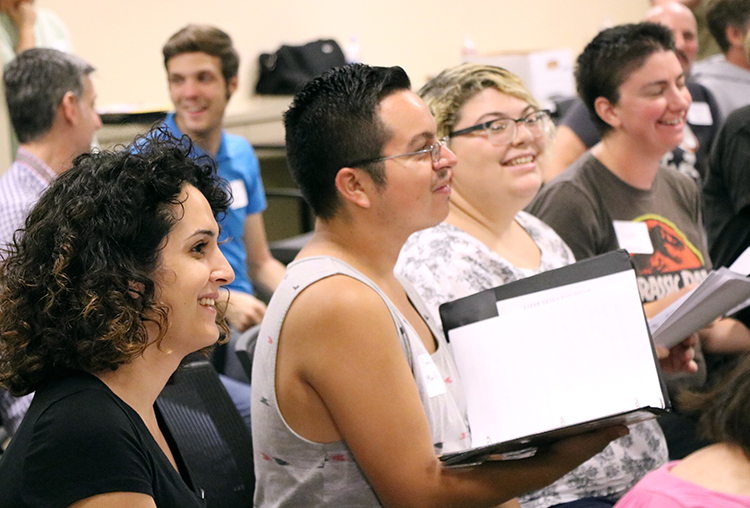 MESSAGE OF STRENGTH
While there are numerous choruses and performing arts groups that cater to LGB people, TCLA is the only organization creating community for transgender and gender-expansive people in the performing arts. There is no existing or comparable organization in California and TCLA is the first chorus for transgender and gender-expansive people in the nation with a transgender artistic director.
"It is great for us to be visible. It gives people permission to accept and love and affirm us. And when you change hearts and minds, the ecology becomes safe," Deaton said. "The Trans Chorus of Los Angeles will save lives."
"No other intersection of society, except society itself looks like the Trans community with its array of human beings. Not only are chorister voices transforming, TCLA has a message of strength and unity to share with everyone, and a hope to help change the world through its reflection of life and song."
As the buzz surrounding TCLA continues to gain momentum, the Gay Men's Chorus of Los Angeles has been a supporter and ally for TCLA and generously donated their time and administrative resources to assist the formation of the new chorus.
TCLA's first performance will be for the Transgender Day of Remembrance on November 20 in West Hollywood. The chorus will perform one song with Our Lady J, another with Alexandra Billings, and one song by themselves.
---
All members of the transgender and gender-expansive community are invited to sing in the chorus. Rehearsals are on Sundays. For more information, please visit www.TransChorusLA.org.