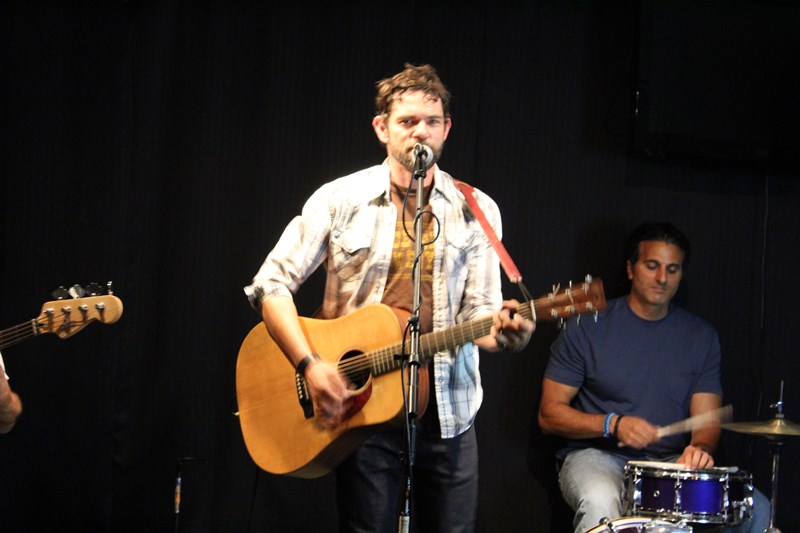 Photos & Text by Paulo Murillo
Country crooner Sean Wolf Galuszka performed songs from his upcoming album "Songs For Lonesome Gay Cowboys" this past Wednesday, April 29, at Oilcan Harry's in Studio City.The Roaming Wranglers (Justin Schenck on Bass and Kahlil Sabbagh on drums) joined him on stage.
The audience was treated to an intimate night of original music as well as some familiar songs that were given a country twist. Original songs by Sean Wolf Galuszka included "World is My Home," "Ocean Boy," "Shit for Brains," "Change You," "Zombie Apocalypse Gay Bear Country Western Christmas Love Song," and "Novocain."
Galuszka mixed it up with some familiar tunes as well, like the song "I'm On Fire" by Bruce Sprinsteen, an acoustic version of Marilyn Manson's "Dope Show," and Madonna's gay classic "Vogue," also went through a country re-invention as the show's finally. Mr. LA Leather Bear 2014, Gabriel Green did an impromptu performance by doing the rap portion of the song and striking poses.
Galuszka is originally from New York. He has a BS in Acting/Directing from Syracuse University, and his credits include producing and starring in the award winning short film "How Much" (voted Audience Favorite at both the Los Angeles International Film Festival and CineVegas) and performing in the LA premiere smash hit "The Complete Works Of Wm Shkspr (Abridged)" at the Globe Playhouse. Galuszka also recently appeared in the film "Primrose Lane."
The album "Songs For Lonesome Gay Cowboys" is currently in the works, but the curious can find some of his previous–studio and live–recordings on iTunes under Sean Galuszka.
Check out some of his live performances, music videos and acting reels at his Youtube channel under Sean Wolf Galuszka.