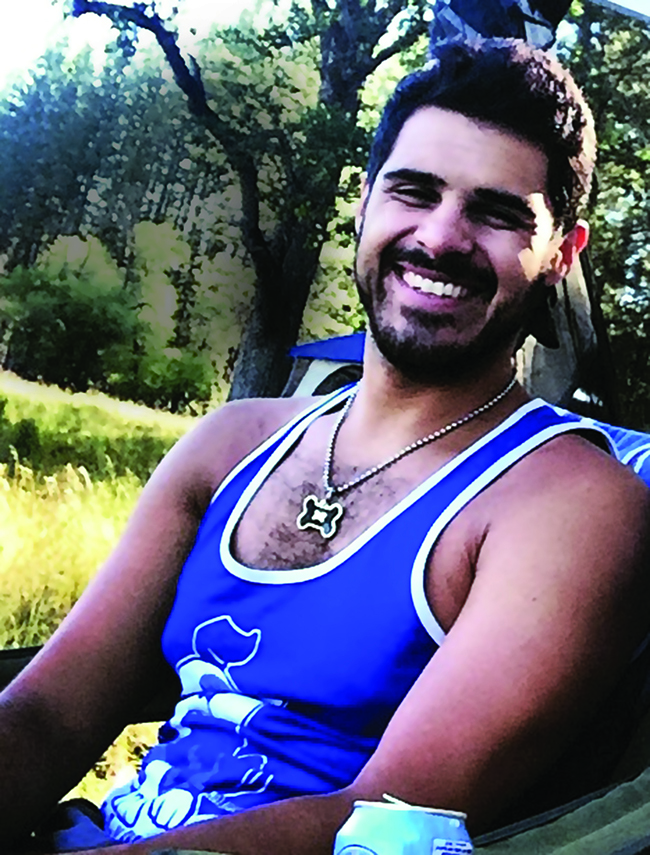 How one man's sexual fetish changed his perspective on life. Puppy play, handsome daddies and being in the moment.
BY JOSEPH ARELLANO
After arriving from the somewhat conservative Midwest for a fresh start, I began to embrace my sexual fetishes more openly.
My eventual realization of my pup play fetish came to fruition after meeting my daddy almost two years ago. It all began during a routine visit to the market—when I noticed a handsome silver daddy walking in as I was leaving.
Instantly I turned around, stayed a couple of minutes and started sniffing. Woof.  How I could not? Piercing green eyes, commanding presence, I knew from that moment on that I was in love. Thankfully the feeling was mutual.
Being his boy and servicing him in multiple ways struck me with the happiness, discipline and horniness that I had always wanted.
I found it very hot to have wordless sex—utilizing only animalistic sounds to express my pleasure. Looking back I now realize that I was showing my pup side without knowing it. I was clueless, and had no idea as to what it all meant—until one night—during our lovemaking—my daddy said, "You are a puppy."
HEART AND SOUL
A puppy? After hearing those words, I was confused yet, tickled. I hopped on my laptop and I immediately started researching puppy play. After reading articles, seeing videos, pictures of pups with their tails, puppy mitts, leashes, muzzles, and pup hoods, my mind was blown.
In my heart and in my soul I felt that being a pup was right.
My daddy chose my pup name—Rut Roh—because I am kind of a clumsy guy. I knock over things, I forget the size of my body, I sometimes wear my shirt inside out, I forget to put things back, I leave drawers open, and I trip or bump into walls….  So one day—within a split second of me spilling a glass of milk on the floor—my daddy looked at me and said Rut Roh… I couldn't help but grin ear to ear… That was it… He knew me so well and it fit my personality perfectly.
CURIOUS AND TEACHABLE
After getting my name and loving the experience that was coming from it, I wanted to play with other puppies. LA Pride was fast approaching and so without hesitation I decided to volunteer for Christopher Street West, helping out with the parade and different areas of the festival—one of those areas is called "Erotic City."
Erotic City had quite a few vendors and in the middle of the designated area—they fenced off a "puppy play place" complete with a white picket fence and Astroturf.
The pups started strolling in—myself included. I began talking to my friends and introducing myself to the pups. After conversing and making jokes, nuzzling others, the pups migrated to the Puppy Area. This was it. The puppy mosh.
After experiencing the rush of energy with other pups, it was clear to me that Rut Roh was here to stay. Not only was being non-sexual and playful exhilarating, the mindset was to be in the moment -and optimistic. Biting chew toys, chasing and wrestling with other pups, playing tug of war, all of these things were insanely fun and made me feel like a kid.
My experience being a pup has allowed me to express many sexual desires—as well as discovering new facets of my personality. It has provided a new perspective—through the eyes of a puppy—and has made me curious and teachable to this day.