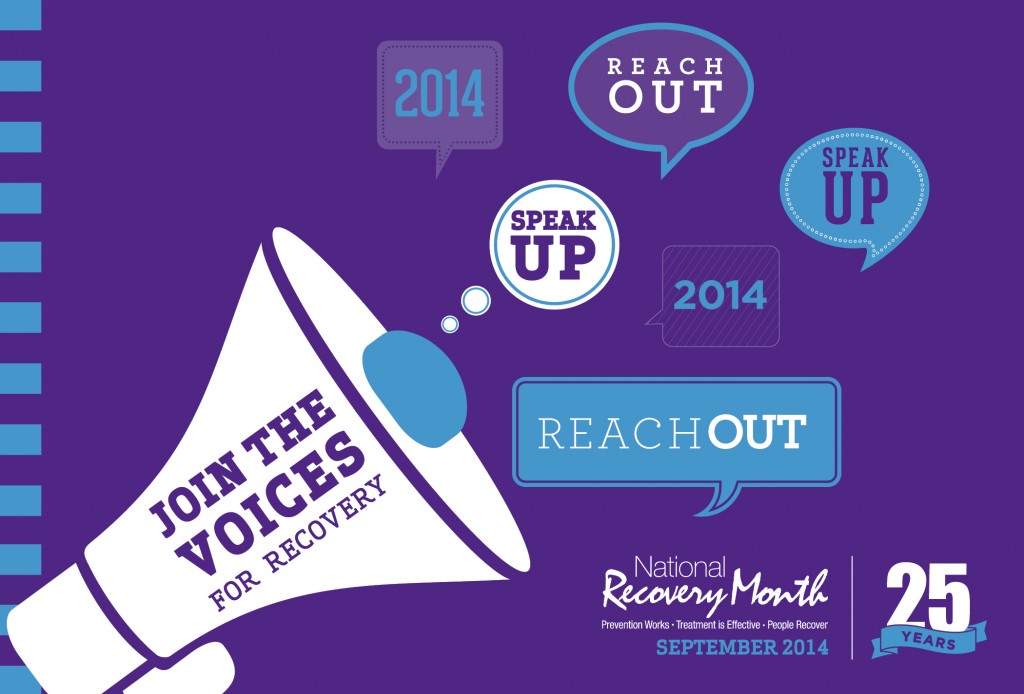 The month of September is National Recovery Month.  2014 marks 25 years of promoting the societal benefits of prevention, treatment and recovery for mental and substance use disorders. This year's theme, "Join the Voices for Recovery: Speak Up, Reach Out," encourages people to openly speak up about the realities of recovery to encourage individuals to recognize when substances use is a problem and how to reach out for help.
Celebrated every September, the Substance Abuse and Mental Health Services Administration (SAMHSA) (http://www.samhsa.gov), within the U.S. Department of Health and Human Services (HHS) (http://www.hhs.gov), sponsors National Recovery Month to increase awareness, celebrate recovery, and promote the message that behavioral health is essential to health, prevention works, treatment is effective and people recover from mental and substance use disorders. 
Recovery Month began in 1989 as Treatment Works Month, which honored the work of the treatment and recovery professionals in the field. The observance evolved to National Alcohol and Drug Addiction Recovery Month (Recovery Month) in 1998, when the observance expanded to include celebrating the accomplishment of individuals in recovery from substance use disorders. The observance evolved once again in 2011 to simply National Recovery Month to include all aspects of behavioral health.
Recovery success stories often go unnoticed.  Across the country, people in recovery are celebrating their recovery and sharing their stories with others in an effort to educate the public about treatment, how it works, for whom, and why.
For a list of success stories, recovery resources or more information about National Recovery Month, visit recoverymonth.gov