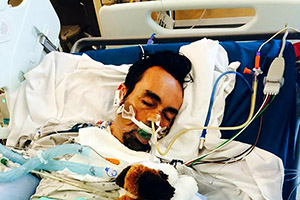 West Hollywood bar patron Ramon Estrada, who was found beaten in early July after a night at Gold Coast bar in WeHo died from his injuries early this month.
According to coroner's Chief Craig Harvey, the 36-year old suffered a blunt force trauma and was pronounced dead at Cedars-Sinai Medical Center on August 4 at about 5 p.m., reports WEHOville.com.
"It is with the heaviest heart and the saddest soul that I post Ramon lost this long battle yesterday around 5 pm at Cedars Sinai Hospital surrounded by friends and family," a friend posted on a gofundme account that was set up to help with hospital bills.  "Please continue to pray for Ramon's family and friends as they grieve this tragic loss. And that whomever is responsible for taking the life of such an amazing young man will be brought to justice."
Estrada vanished on his way home from the Gold Coast July 7. According to reports, he last communicated with his partner Michael Shutt at 1:45 a.m. before he went missing. Calls were made to friends and local hospitals before an official missing persons report was filed.  His partner rallied family, friends and members from the West Hollywood community to try to find him via social media, fliers, knocking on doors and reaching out to the press.
Estrada was found unconscious on the corner of Mansfield Avenue and Santa Monica Boulevard, between two parked cars–only a short distance from his home about 20 minutes after he phoned Shutt, reported LAist.com. Friends believe he took a bus and was walking from the bus stop to his home when he was attacked.
We may never know what happened that night. The case remains under investigation.