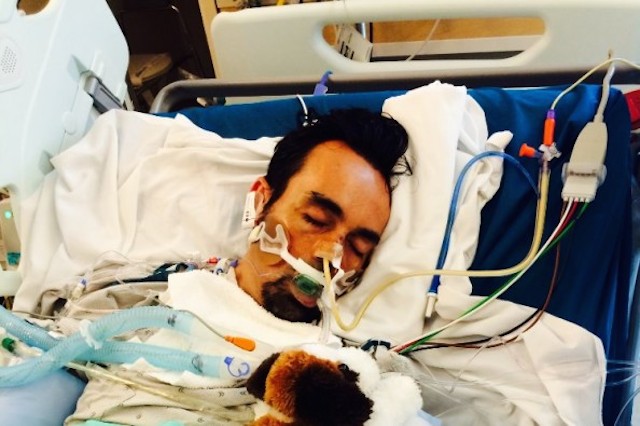 Mystery surrounding the disappearance of West Hollywood resident Ramon Estrada led investigators to Cedars-Sinai Medical Center, where he was found in a coma as a "John Doe." Police believe Estrada's broken shoulder, head trauma, pneumonia and heart issues are injuries caused by a severe beating.
Estrada vanished on his way home from the Gold Coast Bar in West Hollywood on July 7. According to reports, he last communicated with his partner Michael Shutt at 1:45 a.m. before he went missing. Calls were made to friends and local hospitals before an official missing persons report was filed.  His partner rallied family, friends and members from the West Hollywood community to try to find him via social media, fliers, knocking on doors and reaching out to the press.
Estrada was found unconscious on the corner of Mansfield Avenue and Santa Monica Boulevard, between two parked cars–only a short distance from his home about 20 minutes after he phoned Shutt, reports LAist.com. Friends believe he took a bus and was walking from the bus stop to his home when he was attacked.
According to a GoFundMe fundraiser, "a miracle happened on Monday, July 14th" after Shutt and his friend Wendy Mairena went to talk to detectives, to check on the status of the missing persons report. When they showed the detectives one of the flyers they made, one inspector recognized Estrada as the man who was under the pseudonym name "Trauma Echo" at Cedars, who they found the night Estrada went missing. The detective had fingered printed Estrada to identify him a week prior, but Estrada's hands were too swollen to get a full print. Shutt and Mairena rushed to the hospital to identify him and Estrada was found.
Comments via social media have expressed anger over the way the case was handled, where a man went missing and an unidentified man was found at a local hospital on the same night, but detectives were not able to make the connection–however at this point, family and friends have only expressed gratitude that Ramon Estrada has been found alive.
Estrada is on the mend at Cedars. Funds raised through the GoFundMe account will help with medical bill. The account is close to $7,000 of its $15,000 goal as of the publishing of this article. To donate, visit www.gofundme.com/blbxuw