Walt Cassidy's journey from androgynous New York Club Kid to respected contemporary artist.
BY PAULO MURILLO
Walt Cassidy is a man of many incarnations. He survived the early 1990s as New York Club Kid known as Waltpaper, he founded the conceptual hardcore punk band BOOB in the late 90s, and he's worked hard to earn success and respect in the current New York art scene.
His photography, sculptures and illustrations have been exhibited in prestigious galleries such as MASS MOCA, Paul Kasmin Gallery, Deitch Projects, 303 Gallery, Torrance Art Museum, Watermill Center, Vox Populi, Galerie Melilli, Mancinetti and Invisible Exports. He also has a new line of talismanic inspired jewelry that has collectors buzzing.
In an interview with THE FIGHT, Cassidy talks about how he sings for his supper, the death of the traditional art gallery and his journey from androgynous New York Club Kid to the handsome gay adult man we see today.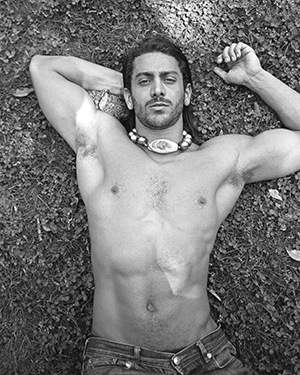 Do you suffer for your art?
My work requires vulnerability, and in that is much sacrifice. I accept the sacrifice. Suffering comes from resistance, and I don't resist anymore. I am emotionally responsible in my work. I live inside of it and willingly show up to do the labor.
What are your thoughts on making art versus selling it?
I am not a precious fragile artist. I am comfortable singing for my supper. I often compare my work to hustling and drug dealing. I laugh to myself, when I deliver my jewelry in brown paper bags to collectors on the street for cash. I feel very confident in the integrity of my work, so I enjoy selling it. There is a special bond between artists and collectors, a wonderful intimacy of two people who share an object. I embrace the independence that the internet and social media have allowed the artist. The traditional gallery as a format is dying. Museums and galleries are sluggish. There is more dynamic curating on Tumblr. I enjoy the gorilla style format of art fairs, and would love to see galleries become virtual. The test of a great contemporary art work is that it must be as effective on the screen of a phone, as it is in person.
What is the harshest criticism you've received about your work?
It can be frustrating when people lay references on top of your work that you don't intend. Once the work goes out into the world, you have to release it, and allow people to have their own experience with it.
Have you ever had a hard time parting with any of your work?
No, I love when the work goes out into the world. I am content with my time spent making the objects and living the life that informs them.
Regarding your jewelry line—did you create the pieces with a specific person in mind?
I see the jewelry pieces as shamanistic, and encompassing the full spectrum of gender. There is no design or branding agenda. Each piece is unique unto itself, talismanic, with the intent to heal, comfort, provide strength. My commitment is in the energy they emit. My curiosity is in the exploration materials and scale.

Looking back at the crazy Club Kid days, you have evolved from androgynous boyhood to a gay adult man. Was this a painful evolution?
Yes, it was, at times. I was very lost and confused between the ages of 25 and 35. It was like a second puberty. My body and face went through so many changes before the dust settled. So I really relate to individuals who are navigating the gender spectrum. In retrospect I am able to see my particular journey as archetypal. The path from androgynous boyhood into manhood, is one that has been thoroughly documented in history. Some people find comfort in a consistent gender identity that is established very early on. That was not my path, I moved around quite a bit. I am generally predisposed to change, but am quite comfortable where I have landed. I am enjoying being a man.
At what point did you realize the party was over and it was time to grow up?
I never viewed my life as a "party." I have always seen it as a journey, an exploration. I never felt young, and have always sensed that my soul spanned many lives. Life is about a progressive evolution of the soul. I don't subscribe to the two-part format of before and after. I am more interested in fluidity.
What do you want most out of life?
I try to live my life with integrity and authenticity, and remain teachable. I want to continue to blossom and exist within the space of inspiration. I imagine myself taking a lover, living and working by the sea.
Do you have any events, showings, projects that you'd like to share with our readers?
I am in the midst of curating and writing a substantial piece for the upcoming issue of Luis Venegas' CANDY Magazine to be released in the Fall. I've collaborated with Juliana Huxtable and photographer Leandro Justen for the upcoming edition of BARON Magazine. The issue has been guest edited by Michael Alig, and is set for release in July. Artworks are available through Invisible Exports, Natalie Kates Projects and The Long Life China Co. in New York. The jewelry is featured at ODD in New York City and Laloon in Hudson, NY.
To view available works, and get updates, visit waltcassidy .com.