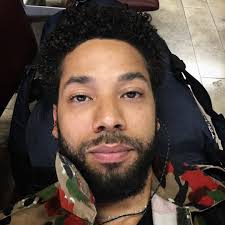 Jussie Smollett has spoken out for the first time since he was the victim of a homophobic and racist attack earlier this week, reports The Hollywood Reporter.
The Empire actor was beaten by two men on Tuesday in Chicago. According to police, the attackers first yelled racial and homophobic slurs before they beat him and poured an unknown chemical substance over him. One of the attackers wrapped a rope around Smollett's neck. The attack led to Smollett's hospitalization.
"Let me start by saying that I'm OK," Smollett said in a statement to Essence on Friday. "My body is strong but my soul is stronger. More importantly I want to say thank you. The outpouring of love and support from my village has meant more than I will ever be able to truly put into words."
Police confirmed to The Hollywood Reporter that Smollett told them his attackers yelled pro-Trump comments during the attack, including "This is MAGA country!" Those comments were not mentioned in the initial report, though were added to a supplemental report after another interview with Smollett. reports The Hollywood Reporter.
He also addressed the claims on social media that he has changed his story and details about the incident. "I am working with authorities and have been 100 percent factual and consistent on every level. Despite my frustrations and deep concern with certain inaccuracies and misrepresentations that have been spread, I still believe that justice will be served," he said.
READ MORE HERE:
https://www.hollywoodreporter.com/news/jussie-smollett-breaks-silence-attack-says-hes-ok-1181888