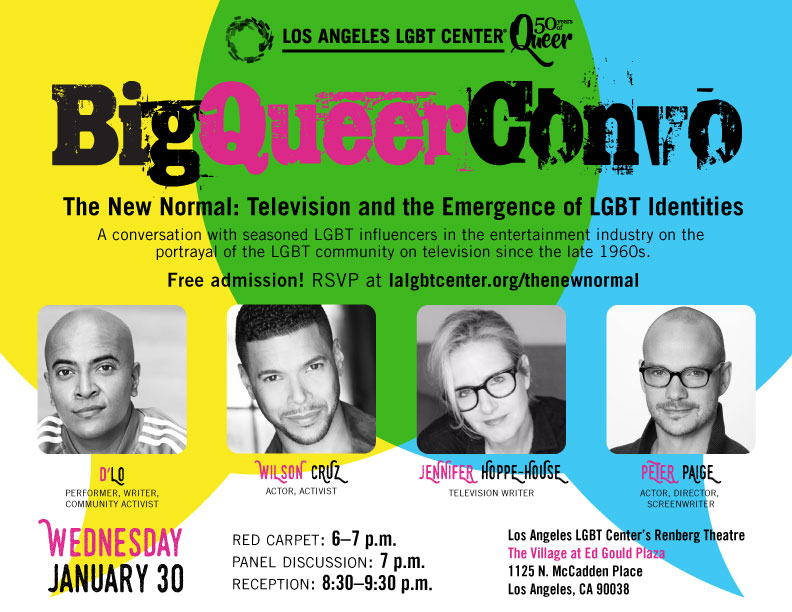 As part of its 50th anniversary, the Los Angeles LGBT Center kicks off a year of events on Wednesday, January 30 –celebrating 50 Years of Queer with the first installment of Big Queer Convo's special panel series documenting the impact of LGBT people on the entertainment and news media over the last half-century.
Entitled The New Normal: Television and the Emergence of LGBT Identities,  the panel will explore the attitudes, changes, and landmarks in the portrayal of the LGBT community on television from the late 1960s through present day on Wednesday, January 30, at The Center's Village at Ed Gould Plaza.

The panelists include: actor, director, and screenwriter Peter Paige, best known for his role as "Emmett Honeycutt" on Showtime's groundbreaking series Queer as Folk and as co-creator and executive producer of the critically-acclaimed drama The Fosters and its new series spinoff Good Trouble; actor Wilson Cruz, known for playing "Rickie Vasquez" on the ABC series My So-Called Life, "Angel" in the Broadway tour production of Rent, "Junito" on Logo's Noah's Arc, and "Dr. Hugh Culber" on Star Trek: Discovery; transgender Sri Lankan-American performer, writer, and community activist D'Lo, who has appeared in feature films, short films, and several television series (HBO's Looking, Amazon Original Series Transparent, Netflix's Sense 8) and whose performance pieces often address queer and transgender issues and investigate gender norms, sexuality, and the stereotypes of marginalized populations; and television writer Jennifer Hoppe-House, whose show credits include Nurse Jackie, Damages, Grace and Frankie, Get Shorty, and Dietland. Currently, she is adapting Laura Lippman's novel Sunburn for HBO as a limited series starring Halle Berry.

50 Years of Queer is a campaign that celebrates the 50th anniversary of the Center's founding in 1969. A host of events throughout 2019 will commemorate and celebrate the anniversary, culminating in a gala concert and celebration at the Greek Theatre in September.

A reception will be held at The Village courtyard following the panel discussion. 

WHEN:  Wednesday, January 30
Red Carpet: 6–7 p.m.
Panel Discussion: 7 p.m. 
Reception: 8:30–9:30 p.m.
WHERE: Los Angeles LGBT Center's Renberg Theatre
The Village at Ed Gould Plaza
1125 N. McCadden Place
Los Angeles, CA 90038

NOTE: During construction of the Center's new facility directly across the street from The Village, parking is limited. Please allow extra time to find street parking or choose public transportation or a rideshare service
TICKETS:  FREE admission, but reservations are required.

To RSVP, visit lalgbtcenter.org/thenewnormal.