Art Share L.A., a multidisciplinary, non-profit art space downtown offers artists from diverse backgrounds a space to share their vision with the world.
BY ROXIE PERKINS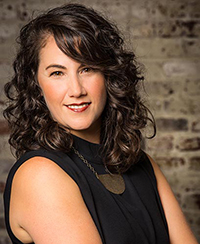 Cheyanne Sauter, the Executive Director of Art Share L.A., talks to THE FIGHT about local outreach, queer programming and reflecting the community.
Tell us about Art Share and the type of work you create.
Art Share L.A. believes that artists create when they have access to space, resources, and support. We understand how difficult it may be for artists, especially emerging artists, to access the resources they need. We provide a creative environment for artists to reside, develop, perform, and exhibit. We inspire artists and provide connections to the community for shared benefits in our 28,000-square-foot facility. On our top floor, we offer 30 affordable live/work lofts for artists, and on our bottom floor, we have a community-programmed facility that is home to a theater, art galleries, art and ceramic studios, classrooms, and an office. We are proud to call ourselves a space of untamed creativity.
ArtShare is known for its very diverse and inclusive programming—how do you go about your outreach to the local community?
We are a first-come first-served model, so those in the community that are advocates for themselves tend to be on our stage the most. And in the coming year, we are looking for new ways to be more inclusive and diverse. We created a Theater Committee built of performers and musicians who will assist with bringing marginalized communities to the stage and giving voice to impactful social issues.
Tell us about some of the queer programming that ArtShare has done.
Our stage has seen a couple of great shows that feature the queer community. Gay DD for one has been phenomenal at putting some amazing acts and talent on our stage. We have also have gay belly dancers showcases and classes in the past. One of my favorite events that came through two years ago was a private event for transgender youth—Trans Prom. I was so happy to see all the beautiful people, dressed to the 9s, running around Art Share in a safe, accepting space. It was inspiring.
How did ArtShare get started?
In 1997 […] Art Share L.A. flourished as an after-school arts center for youth aged 12-18 and as an affordable housing complex at a time when inner-city arts programming was nonexistent and artists were experiencing high displacement rates. 
Following the 2008 recession, the nonprofit landscape and neighborhood demographics had changed dramatically, and we found ourselves in dire need of programmatic reassessment and building repair. Five years later, change happened. The Arts District was rapidly re-gentrifying with promises of new developments and higher rents. As artists deserted the neighborhood, Art Share L.A. needed to respond to the needs of displaced artists in the Arts District and throughout Los Angeles.
Art Share L.A. underwent a strategic re-branding and reassessment, gained a new Board of Directors, and hired new staff. We reopened our doors with new programming aimed at supporting artists in Los Angeles. International Street Artist, INSA, gave our building a fresh new façade, transforming us into a vibrant downtown landmark.
What advice would you give to other arts organizations that want to start programming more diversely and inclusively?
Stop telling artists what to make and they will be diverse and inclusive by nature. Artists are one of the most accepting, liberal groups, let them enjoy each other. If you are missing inclusion in your programming, then you can be specific – you can make sure that your leadership, your staff, and your selection committees come from diverse backgrounds. They will bring in their networks as well as help to select acts/performances that reflect the community. 
---
More information on Art Share and their upcoming community and arts programming can be found at their website: www.artsharela.org.