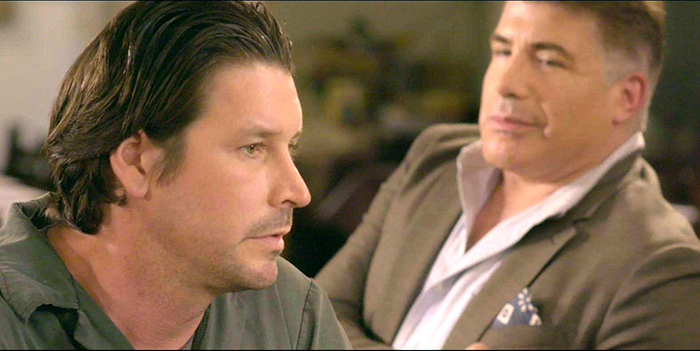 Garrett Prejean (L), Bryan Batt. "Raceland."
Childhood friends from the bayou develop a deep affection for one another. A film by Scott Bloom, currently in post production.
BY MARK ARIEL
After working as a freelance editor for the past 25 years on hundreds of feature documentaries, sitcoms, film trailers and reality television episodes, Scott Bloom left the edit suite in 2005 and stepped behind the camera as producer and director.
 Among other ventures, Bloom created the award winning documentaries, Original Pride: The Satyrs Motorcycle Club (a series of oral histories commemorating the club's 50th anniversary), Call Me Troy (on Rev. Troy Perry) and Out for the Long Run (about openly gay high school athletes). 
The road these men travel, navigating these unfamiliar feelings in this environment, is a fascinating journey."
Bloom also wrote Southern Knights, a script inspired by the events of the Upstairs Lounge fire in New Orleans. "The script has won some awards and has gotten great reviews, but in Hollywood the machine takes forever," confides Bloom in an interview with THE FIGHT. "So while we were shopping Southern Knights around town, I needed to put my creative juices back to work and thought that a short film might be a project that I could shoot on my own without having to wait for Hollywood."
That short film—Raceland—is currently in post production.
"The inspiration for Raceland came from something my mother told me not so long ago," reveals Bloom. "When I was 9 years old, my parents were having marital problems. One evening they were fighting. My mom was yelling and my father infuriated her more by not engaging—until finally my mother yelled, "Are you gay?"  My father's response was simply, "I don't know." To this day I'm not sure if he was truly questioning or if he was just deflecting so he didn't have to fight, but this answer caused me to think about straight men in a very different way."
"The men of Raceland are childhood friends from the bayou that develop a deep affection for one another, emotional love—if you will," explains Bloom. "The road these men travel, navigating these unfamiliar feelings in this environment, is a fascinating journey. I've come to find out their story is more common than one might think. It's just not spoken of, because 'men don't talk about that.' Hopefully Raceland will begin a dialog where it'll become okay for straight men to share their affection with their friends without fear or judgment." 
"Being on location in the bayous of Louisiana was an amazing treat," says Bloom. "I'm from Louisiana myself, and despite what you might have heard, there is a welcoming gentility about the people there. We were shooting at a truck stop in Raceland during the weekend of New Orleans Pride. The truck stop is owned by a local family and at one point, one of the boys asked us if we would be going to Pride because 'it's a great time and it's really cool.' I think my fellow Angelenos were really quite surprised, perhaps bursting a preconceived notion about southerners and homophobia. This is the south I'd like to bring to people more often."
"We launched an Indiegogo campaign for our production costs that netted us a nice chunk of change—the emotional impact of that many people supporting your vision can't be underestimated," confides Bloom. "I also took on extra editing work for about a year in order to make sure we had all the money we needed to get Raceland in the can."
Presently, says Bloom, "we're tasked with finding another $20,000 to pay for our editing, coloring, sound and original music. To that end, we're launching another Indiegogo campaign as well as to make sure this film is done properly. Hopefully if we can get the same support for our post completion fund that we did for the production drive, we should be able to bring folks a really great film." 
---
Check out their campaign at: www.igg.me/at/Raceland-post.