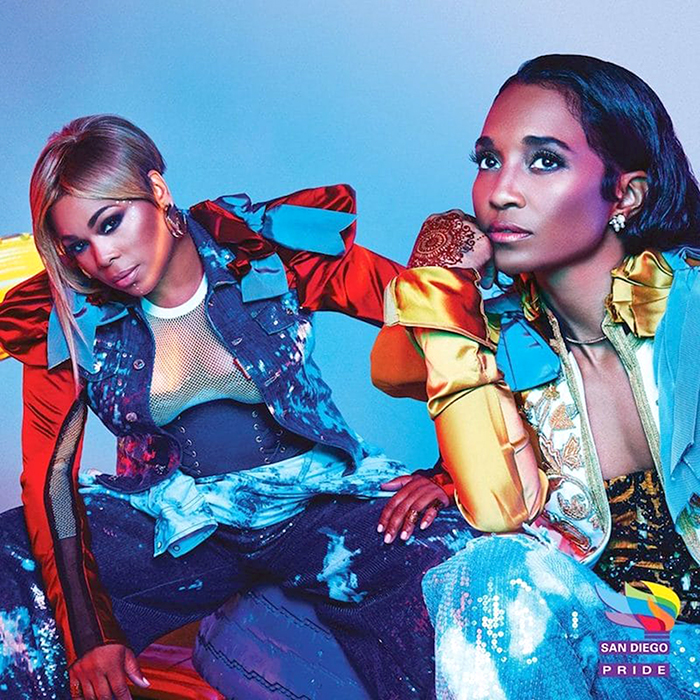 TLC (Tionne "T-Boz" Watkins, left, and Rozonda "Chilli" Thomas) will perform at San Diego Pride. More info at www.sdpride.org.
TUESDAY, JULY 03
SHEETS EXHIBITION 11AM-6PM
Kohn Gallery, 1227 N Highland Ave, Los Angeles, 90038. Sheets, a solo exhibition of new work by Philadelphia-based artist Jonathan Lyndon Chase. His powerful figurative paintings highlight the daily lives of black queer men and the difficulties faced by defining one's identity as such in contemporary society.
WEDNESDAY, JULY 04
DRAGGED OUT 9PM-2AM
Revolver Video Bar, 8851 Santa Monica Blvd, West Hollywood, 90069. Weekly Cash Prize PLUS a $5,000 Grand Prize announced on the Final Night. Music by DJ Patrick Kuzara, Hosted by Billy Francesca & Beau Byron.
THURSDAY, JULY 05
DARE TO FLAIR 8PM-10PM
Echoes on Pico, 5025 W Pico Blvd, Los Angeles, 90019. Monthly Queer Open Mic hosted by D'Lo w/support from OUTFEST. for queer  comics, storytellers, musicians and poets.
FRIDAY, JULY 06
IMPROV COMEDY FESTIVAL WITH PRIDE! 7PM-11:45PM
Finest City Improv, 4250 Louisiana St, San Diego, 92104. In partnership with San Diego Pride to bring you their 2nd annual LGBTQ Pride Comedy Festival; benefiting Pride's LGBT youth arts program beneficiaries.
SATURDAY, JULY 07
INSPIRED VOICES 6:30PM-10PM
Moss Theater, 3131 Olympic Blvd, Santa Monica, 90404. A Fundraising Event Benefiting Inspire Spiritual Community for LGBTQ+ People & Allies. Featuring: Inspire's Singing Ensemble, "The Inspired Voices", Special Guests: The Trans Chorus of Los Angeles.
Tuesday, July 10
TRANS IS BEAUTIFUL ART WALK 3PM-6PM
1631 Nadeau St, Los Angeles, 90001. A Queer Greenhouse event, a collective of artists working to increase exposure for queer and trans created art.
SADDLE UP LA!

 
LA Horse Rentals, 1850 Riverside Dr., Glendale, 91201. Tel: (818) 242-8443. The hills of Griffith Park, enjoy an afternoon riding and laughing with friends followed by a festive country BBQ, all to raise money to support the Life Group LA and its mission to bring it's nationally recognized POZ Life Weekend Seminar to the HIV/AIDS community.
SATURDAY, JULY 14
SAN DIEGO PRIDE FESTIVAL & PARADE
Marston Pt., Balboa Park (6th Ave. & Laurel St.). Saturday noon-10PM; Sunday 11AM-9PM. For more info: www.sdpride.org. The annual Pride Festival includes multiple stages of entertainment, more than 100 entertainers, and dozens of vendor booths, exhibits, cultural presentations, delicious food booths, and over 40,000 of your closest friends!
BEARRACUDA LA: ASSQUAKE

 
357 S. Broadway, Los Angeles, CA. Hosted by New York (Tiffany Pollard) & Meatball. Doors at 9pm. DJ Mateo Segade. $100 ASS CONTEST at midnight. $5 all night.
TUESDAY, JULY 17

 
GENDER FLUIDS 8PM-9:30PM

 
Cavern Club Theater, 1920 Hyperion Ave, Los Angeles, CA 90027. Bearded Brooklyn and YouTube drag sensation, Levonia Jenkins makes her Los Angeles debut in her first-ever half-woman show at the Cavern Club Theater. A cabaret en-gay-gement not to be missed. 
FRIDAY, JULY 20
LOST PUPPY! RUFF! 4YR ANNIVERSARY 9PM-2AM
Eagle LA, 4219 Santa Monica Blvd, Los Angeles, 90029. Green Mirror Entertainment proudly presents: an event for Puppies, Handlers, Boys and Daddies!
SATURDAY, JULY 21
DILF LOS ANGELES "STRAPPED" UNDERWEAR/JOCK PARTY 10PM-2AM
Los Globos, 3040 Sunset Boulevard, Los Angeles, 90026. A Joe Whitaker & The DILF Party Presentation. Music by DJ Alex Ramos.
GARDEN PRIVATE PARTY 1PM-5PM
Tom Of Finland Foundation, 1421 Laveta Ter, Los Angeles, CA 90026. Tickets & Info:
www.thebaldwingentlemen.com/intimateexcursions/gardenoftom. An outdoor Private Garden Party at the Tom of Finland Foundation in Echo Park, offering an open bar, a special tour of the homoerotic artwork of Tom of Finland, and a LIVE erotic art performance.
SUNDAY, JULY 22

 
DRAG BINGO FUNDRAISER 8PM-9PM

 
Hamburger Marys WEHO, 8288 Santa Monica Blvd, West Hollywood. The drinks are cold, the bingo is hot and the drag queens hilarious. Help OurTown LA raise funds to continue serving the LGBTQ community.
THURSDAY, JULY 26
BOWLING NIGHT 8:45PM-11:45PM
Pickwick Bowl, 921 W Riverside Dr, Burbank, 91506. Join members of all skill levels for an evening of fun and laughter and brotherly bonding. The $13 admission includes shoe rental and unlimited bowling.
FRIDAY, JULY 27
WRANGLER WEEKEND LOS ANGELES
The Garland, 4222 Vineland Ave, North Hollywood, California 91602. Country Western Ball & Dance Workshops, July 27–29. A three-day country-western dance conference offering dance workshops, social dancing, performances, and more! For more info visit: www.thelawranglers.com. Use promo code THEFIGHT for 15% off your advanced registration.
TUESDAY, JULY 31
GENGORAH TAGAME'S PORNSPIRATION
The Tom of Finland Foundation,1421 Laveta Ter, Los Angeles, CA 90026. Tickets & Info: www.brownpapertickets.com/group/3535233. An outdoor screening of iconic Japanese artist Gengorah Tagame's favorite American VHS gay pornography from the early 1980s, including works by Joe Gage and John Christopher.