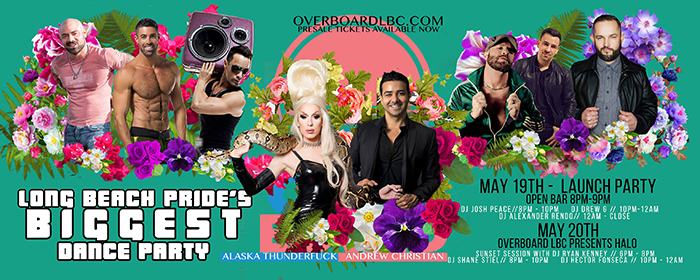 SATURDAY, MAY 5

 
CINCO DE MAYO
The Abbey, 692 N Robertson Bl, West Hollywood, CA. 4pm-2am. The fiesta starts at 4pm. At The Abbey & The Chapel!  
WEDNESDAY, MAY 9
JINKX MONSOON & MAJOR SCALES: THE GINGER SNAPPED
Dynasty Typewriter at The Hayworth, 2511 Wilshire Blvd., Los Angeles. 7pm.  Jinkx and Major have come to showcase their new music from their upcoming album… however Jinkx worries that her best years are behind her. In order to avoid a breakdown of diva proportions Major must act as both pianist and therapist to the Manic Miss Monsoon. Music and mental health collide in this witty, biting look at the dark side of Drag fame. 
SUNDAY, MAY 13
BEARS IN SPACE PRESENTS HONCHO
Akbar, 4356 Sunset Blvd, Los Angeles, CA 90029. 2pm-2am. Set phases to stunning! For our lot party season opener we've invited none other than the boys from Pittsburgh's infamous queer rager to come throw down with us for a day into night get-down of epic proportions. 
ONYX SOCAL: PERVERSION
Eagle LA, 4219 Santa Monica Blvd, Los Angeles, CA 90029. 4pm-8pm. Party with the men of ONYX SoCal-Southwest.
WEDNESDAY, MAY 16
ANNUAL PLEASURE CHEST DYKE DAY FUNDRAISER
The Pleasure Chest, 7733 Santa Monica Blvd, West Hollywood, 90046. 7pm-10pm. Raising funds to cover costs associated with the Dyke Day LA Pride Picnic in the Park. 
FRIDAY, MAY 18
POSITIVE SEXUALITY CONFERENCE
Burbank, CA. 10am-7pm. Info: http://sexposcon.com. The 2018 conference theme is "Strengths, Well-being, and Happiness," which is one of eight dimensions of positive sexuality CSP supports. Keynote Speaker: Susan Wright from National Coalition for Sexual Freedom.
SATURDAY, MAY 19
LONG BEACH PRIDE
Shoreline Marina, Green Park, 450 E. Shoreline Drive, Long Beach CA 90802. Thru Sunday, May 20. Info: www.LongBeachPride.com. Musical talent that ranges from pop, rhythm and blues, country, rap, hip hop, urban soul and much more. The event is marking its 35th year with a variety of activities such as the acclaimed Long Beach Pride Parade, on May 20, as well as games, raffles, food and drink booths, art exhibits, children's activities as well as special presentations from its organizers and community leaders.
OVERBOARD LBC'S OFFICIAL LONG BEACH PRIDE DANCE PARTY
201 Pine Ave., Long Beach, CA 90802. Saturday, May 19, 2018 7pm-closing. Sunday, May 20, 2018 4pm-closing. Info: www.overboardlbc.com. Nothing says class like partying at a mega nightclub in the middle of Dowtown Long Beach, which is why 900 guests will be traveling downtown to Overboard LBC's official Long Beach Pride dance party. Dance with a chic crowd and a vodka martini on hand as you escape into a lush, musical wonderland. Witness gogo dancers perform their breathtaking numbers on stage or break a sweat with our global DJs.
SUNDAY, MAY 20, 2018
DAVIS PRIDE
Central Park (located on C Street—between 3rd and 5th Streets), Davis, CA. 10am 4pm. Info: davispride.org. The festival is free to attend and open to all members of the public.  Headliners include Thea Austin, Dida Ritz and David Hernandez. 
WEDNESDAY, MAY 23
ONE CITY ONE PRIDE & WEHO READS: LAMBDA LITERARY AWARDS FINALISTS READING
West Hollywood City Council Chambers, 625 N. San Vicente Boulevard, West Hollywood, 90069. 7pm-8:30pm. Join the City of West Hollywood's One City One Pride festival and WeHo Reads program for readings from the 30th Annual Lambda Lit Award Finalists. "The Lambda Literary Awards (the "Lammys") identify and celebrate the best lesbian, gay, bisexual and transgender books of the year and affirm that LGBTQ stories are part of the literature of the world. The Lammys, which receive national and international media attention, bring together 600 attendees—including nominees, celebrities, sponsors, and publishing executives—to celebrate excellence in LGBTQ publishing. It is the most prestigious and glamorous LGBTQ literary event in the world."  
SUNDAY, MAY 27
SUMMERTRAMP DTLA
The Escondite Bar, 410 Boyd Street, Los Angeles, 90013. 11am-7pm. A magical Brigadoon of decadence and delight, burning brightly from the sunny shores of DTLA.
WEDNESDAY, MAY 30
ONE CITY ONE PRIDE & WEHO READS: "HARVEY MILK: HIS LIVES AND DEATH"
West Hollywood City Council Chambers, 625 N. San Vicente Boulevard, West Hollywood, 90069. 7pm-9pm. Join the City of West Hollywood's One City One Pride festival, WeHo Reads program, and Lesbian Speaker Series as historian Lillian Faderman (Gay L.A., Odd Girls and Twilight Lovers: A History of Lesbian Life in Twentieth-Century America, The Gay Revolution: The Story of the Struggle) discusses and signs her new book Harvey Milk: His Lives and Death.
DOM & SUB WITH MISTRESS MARY  
Pleasure Chest, 7733 Santa Monica Blvd WEHO 90046. 8pm-10pm. This free workshop will introduce you kink and give you tools to create a dominant/submissive roleplay.