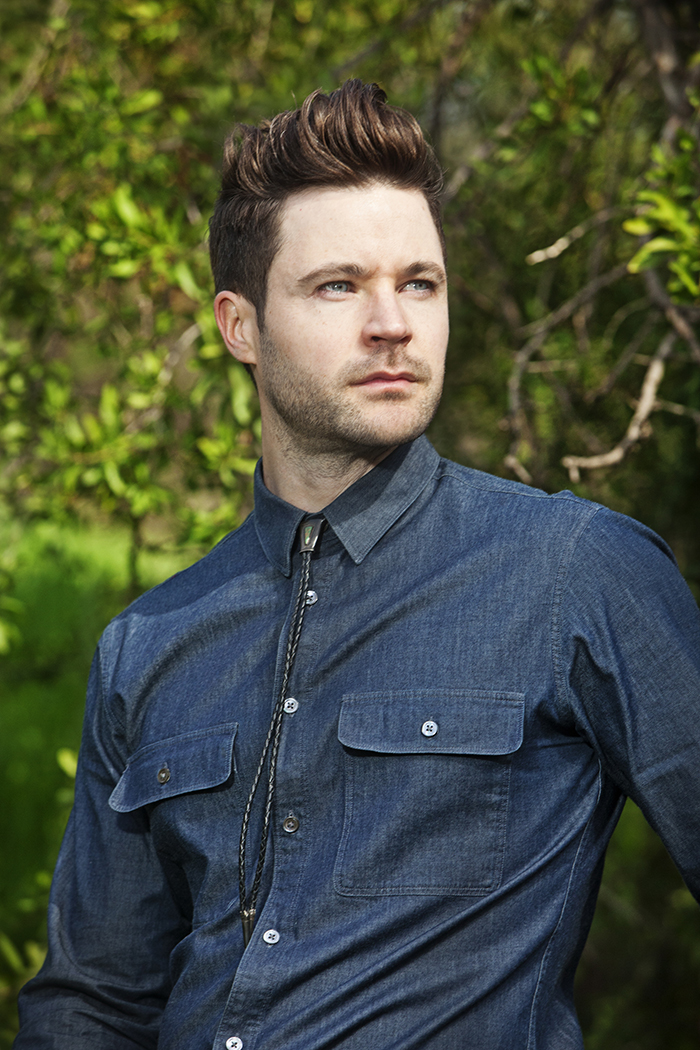 Singer songwriter Brandon Stansell, next month's Palm Springs Hot Rodeo headliner, on country music, coming out and the Golden Girls.
BY MARK ARIEL  |  PHOTO BY DUSTI CUNNINGHAM
Los Angeles-based "California country" performer Brandon Stansell, designated last year as one of the "10 New Country Artists You Need to Know" by Rolling Stone magazine, puts his heart and soul into his music.
As a gay singer-songwriter much of Stansell's music deals with his journey coming out and living his authentic life.
Stansell will be performing at Palm Springs Hot Rodeo next month, on Friday, May 11 at The Toolshed in Palm Springs. (For more info visit: hotrodeo.org).
In an interview with THE FIGHT Stansell talks about  coming out to his religious family, moving to Los Angeles for a boy and finding his  voice in a sea of other country singers.
A little about your childhood: how was life growing up in Tennessee?
I love being from Tennessee—I grew up on a farm just outside of Chattanooga. I have four siblings all pretty close in age, so we always kept each other entertained. I had a pretty idyllic childhood. My parents were always my biggest advocates and I never doubted the fact that I was loved and supported which is probably why coming out was so hard for me. Overnight, all the love and support I had gotten so used to evaporated.
When  did you come out?
I knew I was gay when I was 6. I was 22 when I finally came out. I would like to say that I'd been strong or brave enough to be honest with my family and friends about my sexuality but it actually took me falling in love with someone to force my hand. I was dating my first boyfriend for over a year and it got too hard to hide. I also loved him very much, so lying about our relationship was difficult. My southern guilt caught up to me!
How did it work out with your family?
My family had a difficult time managing their religious beliefs and the love they had for their son and brother but eventually prioritized one over the other. I, unfortunately, got the short end of the stick there. But after almost a decade I am able to see the good in the bad, and the good is this—these experiences made me who I am: a person I am very proud of.
At what point in your life did you know you wanted to be a singer/songwriter?
When I was a little kid! I used do shows at Opryland in Nashville. I remember as child there was nothing that made me happier than when I was on a stage. I did my first show at the Opry House at 6 years-old and have never looked back.
You were a back up dancer for Taylor Swift. Did you want to be a dancer at some point?
Nashville breeds entertainers, not just dancers or singers or songwriters. We do it all! I took every job that came my way whether it meant I was singing or dancing, I just wanted to entertain people. It wasn't until a few years ago that I finally started writing my own music and now songwriter feels like home base to me.
Who were/are your idols?
I have favorites than span multiple genres including Dolly Parton, Year and Years, Vince Gill, Tracy Chapman, Brandi Carlile, Elvis and Patsy Cline.
What motivated you to move to LA?
Initially I moved to LA for a boy. Everyone told me not do it but I did it anyway and almost as soon as I got here we broke up. In the moment I thought to myself, "damn, I just became a statistic!" It didn't take me long, however, to realize how much I loved this city. I fell into a wonderful community, so this place really feels like home now. I tell people all the time, "you'd have to drag me away kicking and screamin' to get me to leave."
How was it acclimating to LA?
I always say LA is a lot like Nashville in that everybody here wants to be an actor where as in Nashville everybody wants to be a Country Music singer. Living in Nashville, I had a hard time finding my voice in a sea of other country singers but LA gave me the space I needed to find myself and my sound.
What song was the most difficult for you to write or perform—and why?
I rarely sing any tracks from my first EP Dear John. This EP was a conceptual album I wrote about breaking up with my first long-term boyfriend. We loved each other a lot and this project was my way of dealing with all of the emotions I was feeling at the time. So, it's hard to sing anything from this record because it brings back to life the feelings I felt when I wrote it.
I read you are a huge Golden Girls fan. What is your favorite quote from that series?
You have given me an impossible task here, too many amazing quotes!
If you had to choose a different profession—what would it be?
I would run for office. I was never interested in politics growing up, but once you realize other people are making decisions and laws that effect you and your community, I can't help but to want to be involved.
---
For more about Brandon Stansell visit: brandonstansell.com.