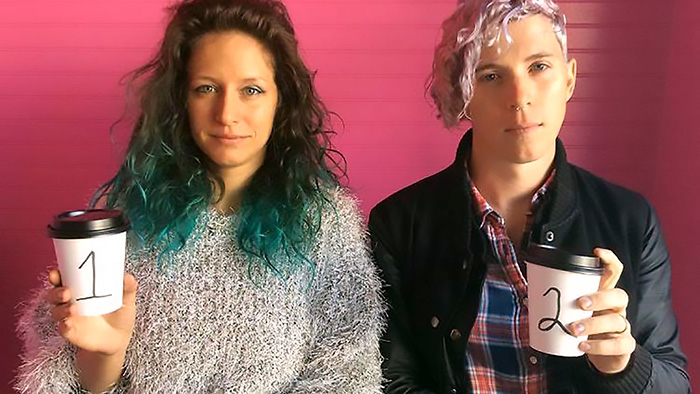 An LGBTQ-owned & operated espresso bar in Los Angeles, with community events.
BY ROXIE PERKINS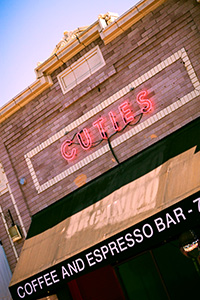 "Cuties Coffee Bar," a queer cafe in Los Angeles founded by Iris Bainum-Houle and Virginia Bauman aims to provide queer people a safe space to socialize and engage.
The cafe grew out of "Cuties Weekly Brief," a weekly newsletter produced by Bainum-Houle and Bauman highlighting queer events and happenings in the LA area as a means to unite the community.
The duo also run Cuties Housing Project—an organization aiming to provide safe housing for queer and trans people in need.
The coffee shop opened in July 2017 and now serves as the hub for all of the groups' activities.
In an interview with THE FIGHT co-founder Iris Bainum-Houle, a genderfluid femme, talks about creating a space for everyone in the LGBTQIA+ community.
Cuties has many facets—tell us about the newsletter and how it came to be.
Our newsletter, The Cuties Weekly Brief, was one of our first steps in reaching out to the broader queer community here in Los Angeles. We knew we could offer resources to folks well before we opened the doors of our coffee bar and a regular newsletter seemed like an excellent way to do that. I love that we can share events from other organizers alongside our own… We created a section called "Adventures From Your Couch." It's a curated list of media ranging from book recommendations to films, zines, podcasts, music videos and more that folks can enjoy from home.
"We want folks to have a safe and welcoming space where their gender, their orientation, and their identity will be respected and nurtured." 
How did the idea for the coffee shop come about? 
It came about from both our desires to have a casual space to share with our community that was not centered around alcohol or one specific letter in LGBTQIA+. With Virginia's background in coffee and my passion for events and organizing a coffee shop seemed like a feasible way to make that goal happen. With a physical space and a means to help pay for the space the possibilities are endless.
The coffee shop hosts many events—what is your socio/political goal?
Our goal is to create more space for everyone in the LGBTQIA+ community as well as our supporters. We want folks to have a safe and welcoming space where their gender, their orientation, and their identity will be respected and nurtured. That basic premise is becoming more and more important and politicized every day.
Tell us about Cutie's Housing Project.
One our community's most pressing needs is safe and secure housing. Right now we are providing listing services through our social media outlets for queer and trans folks looking for housing or queer and trans friendly housing that's currently available. We know this is a long term issue and we're just getting started on it. I don't know what form it will take, whether we'll head up creating more housing or collaborate with other existing organizations. I know that for it to happen in the future we've got to start talking now.
What's next for Cuties?
Now that the shop is open our team has expanded and I'm really excited to see what our other team members want to contribute. Our baristas are a talented group of folks. We have filmmakers, artists, designers, organizers, writers and metalworkers who also happen to know how to make an amazing shot of espresso. I'm eager to provide space for them to get involved in whatever way excites them!
---
Cuties is located at 710 N. Heliotrope Dr. Los Angeles 90029 and is open 7am-7pm everyday.