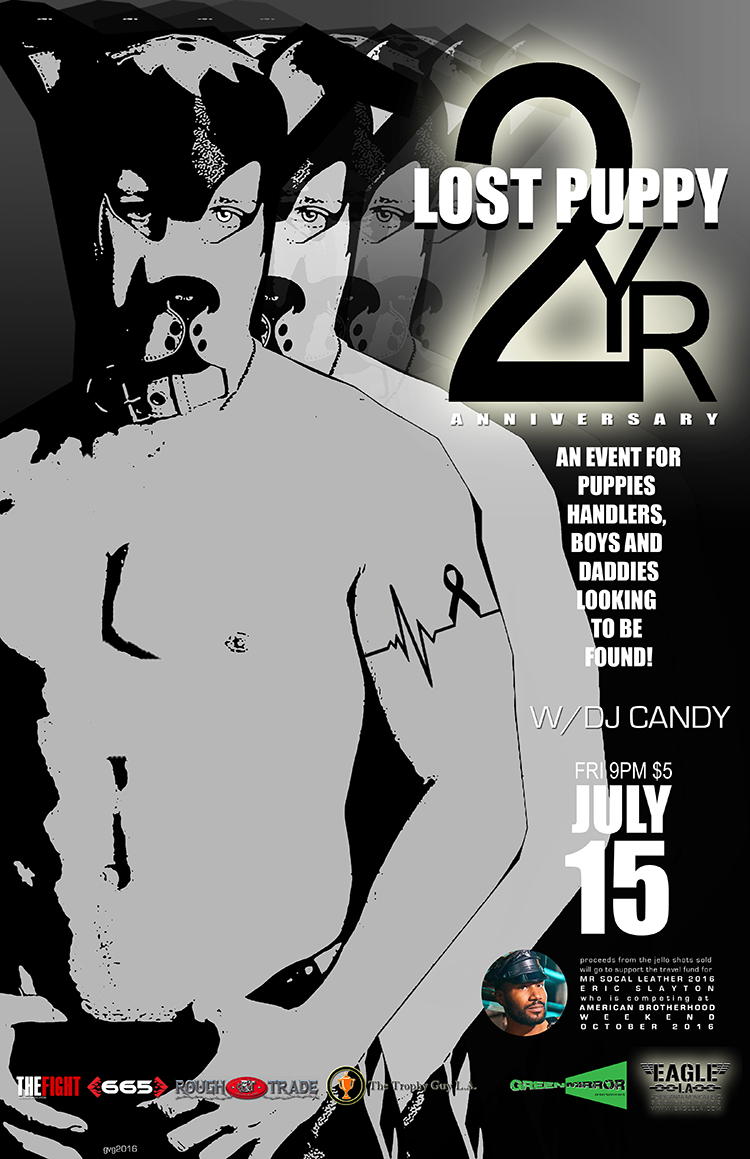 THROUGH SUNDAY, JULY 17
OUTFEST: LOS ANGELES
Queer Film Festival. Tickets & Info: outfest.org.
SUNDAY, JULY 10
ONYX SOUTHWEST PRESENTS: CAGED HEAT
Eagle LA, 4219 Santa Monica Blvd, Los Angeles, 4pm-8pm. Info: www.EagleLA.com. Turn up the heat with the Men of Onyx Southwest for their first beer bust of the summer. Door prizes, Raffles and Hot Go Gos.
CRISCO DISCO
The Bullet Bar,  10522 Burbank Blvd, North Hollywood, 4pm- 8pm. Info: www.bulletbarla.com. 70s classics & rare disco grooves. DJ Steve Cunningham and DJ Brian Novy, Every 2nd Sunday of every month.
FRIDAY, JULY 15
LOST PUPPY 2YR ANNIVERSARY
The Eagle LA, 4219 Santa Monica Blvd, 9pm. Info: www.EagleLA.com. Green Mirror presents an event for puppies, handlers, boys and daddies looking to be found with DJ Candy.
FAGGOTRY : BRUCE LABRUCE PHOTO RETROSPECTIVE
Lethal Amounts, 1226 W 7th St., 8pm. Info: lethalamounts.com. Actor, writer, filmmaker, photographer and underground adult director based in Toronto, Ontario. His films explore themes of sexual and interpersonal transgression against cultural norms, frequently blending the artistic and production techniques of independent film with pornography.
DIANA ROSS AT THE BOWL
The Hollywood Bowl, 2301 N Highland Ave., 8pm. Info: HollywoodBowl.com. Motown legend Diana Ross returns to the Bowl, performing hits like "Stop! In the Name of Love," "Ain't No Mountain High Enough" and "I'm Coming Out."
SATURDAY, JULY 16
RUSH
Tom of Finland Foundation, 1421 Laveta Terrace,  Los Angeles,  9pm-2am. Tickets & Info: www.eventbrite.com/e/rush-tickets-25464257279. A play party for men presented by the Los Angeles Band of Brothers. Discover the depths of fraternity. Pledging is only the beginning! You MUST purchase a ticket for the event in order to attend.
SUNDAY, JULY 17
THE KINSEY SICKS: ELECTILE DYSFUNCTION
The Village at Ed Gould Plaza, 1125 N McCadden Pl, Los Angeles, 7pm. Join The Kinsey Sicks as Rachel, Trampolina, Trixie and Winnie campaign to become the first Dragapella® Beautyshop Quartet to be elected President of the United States on the Republican ticket.
SATURDAY, JULY 23
URGE PRESENTS TSUNAMI
Andaz West Hollywood, 8401 W Sunset Blvd. 12pm-6pm. Tickets on sale at: urge-entertainment.com. LA's sexiest pool party. Featuring Celebrity Hosts J Sutta and Dexter Mayfield, The Deep Eddy Vodka VIP lounge, live performances by Club Posers and The Betty Cockerz, Gogo Dancers, Vendors, and Give-a-ways. All proceeds benefit the Thrive Tribe Foundation and Orlando Victims.
CIGAR BAR
Bullet Bar, 10522 Burbank Blvd, North Hollywood, 9pm. Hosted by Master Kevin Cowger, featuring VJ Myles Matisse, private cocktail server.
SQURRRL: ENCHANTMENT UNDER THE SEA
Akbar, 4356 W Sunset Blvd, Los Angeles, 9pm–2am. Info: www.akbarsilverlake.com Set your underwater imagination free! Come as a shark, seahorse, deep sea diver or jellyfish, your favorite beach wear, or a giant clam. Anything goes!
FRIDAY, JULY 29
LE BAL: A DRAG EXTRAVAGANZA
The Theatre at Ace Hotel DTLA, 929 S Broadway, 9pm. Purchase tickets at theatre.acehotel.com. There are drag shows and then there are Drag Extravaganzas. Le Bal's back to show you the difference. higher heels put you closer to god. Doors open at 7:30pm.
BC&B PRESENTS: DOG DAYS OF SUMMER
The Eagle LA, 4219 Santa Monica Blvd, 9pm. Info: www.EagleLA.com. Back by popular demand, BC&B returns for its second meet up for one of the most popular Instagram pages for bears, cubs, bearded men and fans! Come socialize on a warm summer night with many of your favorite-featured men. NO COVER! Featuring DJ Ryan Jones (Bearracuda).
SATURDAY, JULY 30
DENLA PRESENTS: HOT!
10914 S La Cienega Blvd, Lennox, CA 90304 (near LAX), 9pm–2:30am. Info: denlapresents.com. Celebrating the zenith of summer with the hottest men, the hottest beats, and the hottest play spaces in LA!