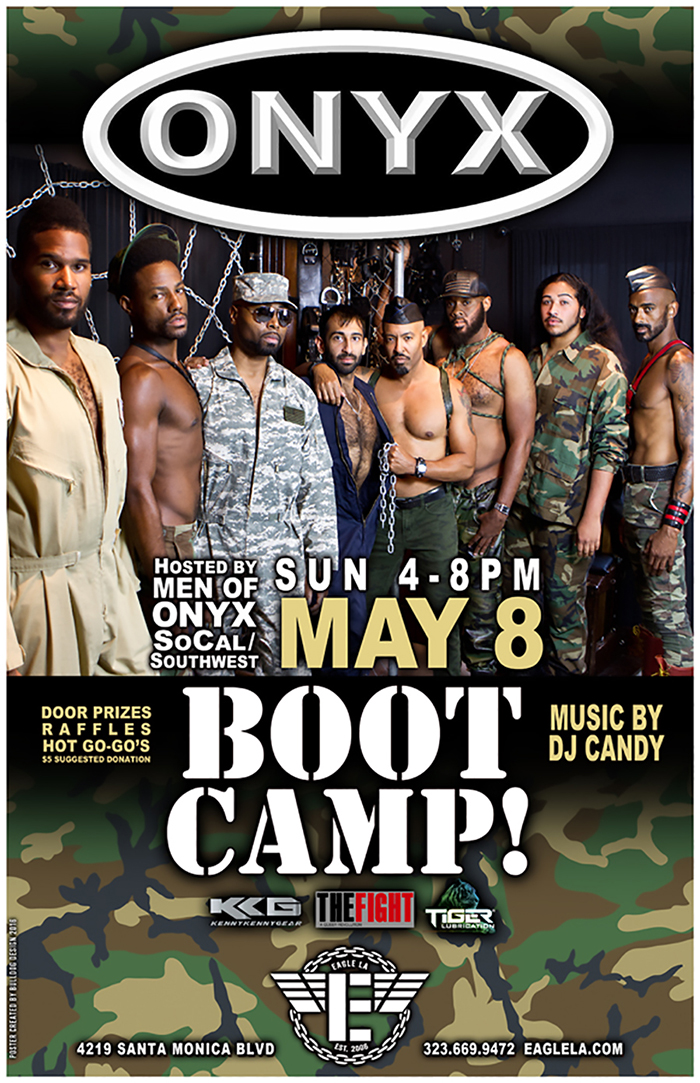 SATURDAY, MAY 7
RUPAUL'S DRAGCON
Los Angeles Convention Center, 1201 S Figueroa St., For more information, visit rupaulgragcon.com. Tens of thousands are expected to attend this glitter-filled weekend that celebrates the art of drag and self-expression for all. Tickets are available at rupaulsdragcon.com.
ROUGH SEX—VERBOTEN
Eagle LA 4219 Santa Monica Blvd, 9pm – 2am. For more info, visit eaglela.com. Music by DJ Steve Cunningham. Hosted by Nabor Arias. Go-Go Studs in Rough Trade Gear. Giveaways compliments of Rough Trade.
BIG NIGHT OUT LA
The City of West Hollywood, 4pm – 7pm. For tickets, bignightoutla.org. The Thrive Tribe Foundation (TTF) is excited to announce that the Premier Gala Event will be hosted at the Hancock Park 1920's English-Tudor style home of Dean Hansell, founder of GLAAD and leader in the LGBTQ community.
MEGAWOOF LA 7th DE MAYO
Precinct DTLA, 357 S Broadway, 9pm. Visit precinctdtla.com. Mexican festivity continues wth London Megawoof Residend DJ Glovibes, host George Unda and some amazing go-go bears. Plus a scene for next season of Where The Bears Are, will be shot.
THE DRAG QUEENS OF COMEDY
Acne Studios Eastern Columbia Building, 855 S Broadway. Tickets at axs.com. Sasha Soprano, Miss Coco Peru, Lady Bunny. Willam, Alaska 5000, Bob the Drag Queen, Peaches & Heklina, Katya and Jackie Beat serving up a no-holds-barred cocktail of comedic opulence.
SUNDAY, MAY 8
ONIX—BOOT CAMP
Eagle LA 4219 Santa Monica Blvd, 9pm – 2am. For more info, visit eaglela.com. In remembrance of those who died while serving in the country's armed forces – a pre-Memorial Day BOOT CAMP beer bust. All are encouraged to wear military inspired gear/attire. Raffles, Prizes, Kinky Go-Go Studs, and More!
THURSDAY, MAY 12
POPPERS GAME NIGHT
Redline DTLA, 131 E 6th St. 8:30pm – 11pm visit facebook.com/events/1570352966595641 for updates. Play different games all night and win fantastic prizes.
FRIDAY, MAY 13
DEVIANT BALL 2016
Globe Theatre, 740 S Broadway, 9pm. For tickets, visit deviantsball.com. Are you deviant? Here is a playground for those who live to break the rules of fashion, dance and all other forms of self-expression. Dress code is either simple black attire, or extreme Fetish, Lingerie, Schoolgirls/Nuns, Steam/Cyber Punk, Gothic/Industrial, Latex/Leather, Dark Victorian, Cosplay, Vampy, All Creative/Deviant Costumes Welcome.
SATURDAY, MAY 14
THE BULLET BAR XVIII ANNIVERSARY
Bullet Bar, 10522 Burbank Blvd. The Bullet Bar celebrates 18 years of serving the gay community. Join the fun and celebrate the XVII Anniversary. No cover.
SMACK
Precinct DTLA, 357 S Broadway, 9pm – 2pm. Visit facebook.com/events/233099603712332 for updates. Kinky Gear night. Free clothes check station to show off your GEAR whether it be Leather, Neoprene, Latex, etc. $5 Cover
SUNDAY, MAY 15
BEARS IN SPACE W/ SOLAR (SUNSET) & DIRTY DAVE
Akbar 4356 W Sunset Blvd, Los Angeles. Info: akbarsilverlake.com. Emcee: Drew Droege as Chloe Sevigne. Also featured: The Mac-O-Licious food truck, Huntees Tshirts, LAG Vintage. Free before 3PM / $6 after
WEDNESDAY, MAY 18
CHEER LA LEGENDARY BINGO
Hamburger Mary's WEHO, 8288 Santa Monica Blvd. Visit hamburgermarys.com/weho, for more information. A night of exciting bingo with some of WeHo's most fabulous drag queens!
SATURDAY, MAY, 21
LONG BEACH PRIDE FESTIVAL
Shoreline Drive, 11am –10pm. Visit longbeachpride.com for updates. The Long Beach Lesbian and Gay Pride Celebration is one of the premiere Pride events nationwide now attracting over 80,000 participants for two days. The Festival Celebration includes five large dance areas including a main stage which has featured musical artists such as Grammy Award Winner Jennifer Hudson, Queen Latifah, Maya, India Arie, and Village People.
SUNDAY, MAY 22
LONG BEACH LESBIAN AND GAY PRIDE PARADE
Bixby Park 130 Cherry Ave, 9:30am. Visit longbeachpride.com for more information. Kickoff begins with at 9am with the "Rainbow Run" Awards sponsored by FrontRunners of Long Beach. 9:45am there is a mass wedding. Celebrate with interactive crowd games and more high-energy music. Parade scheduled to begin at 10am.
TUESDAY, MAY 24
I'LL HAVE ANOTHER WITH ALEXANDER RODRIGUEZ 
Rockwell 1714 N Vermont Ave, Los Angeles.Tickets and Info: http://tickets.rockwel-la.com/event/e7bf87bfeecdab90b2a7cc3a392e02a9 A roller coaster of stories, audience participation, and dramedy, featuring music from stage, screen and pop.
SATURDAY, JUNE 4
STUART TIMMONS' WEHO LGBTQ HISTORY TOUR 2016
West Hollywood Library 625 N San Vicente Blvd, West Hollywood, 11am-2pm.Tickets and Info: www.stuarttimmons.com. A fun-filled, fantastically informative, and FREE experience revealing the sensational, sordid, and surprising LGBTQ History of the City of West Hollywood!