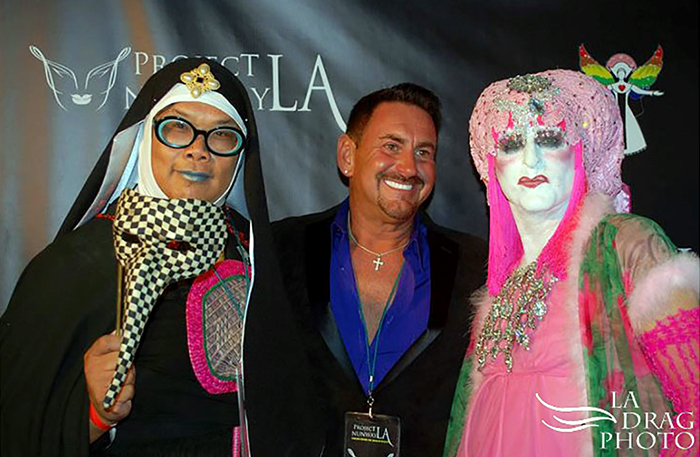 Charity fashion event with The Los Angeles Sisters of Perpetual Indulgence.
BY VICTOR MELAMED
The Los Angeles Sisters of Perpetual Indulgence are hosting an extraordinary fashion experience of the wildest imagination. A blasphemous queer fashion show like no other, this annual event invites designers and creative artists to stretch the absolute limits of creativity, beauty and concept.
In 2013 the LA Sisters hosted this acclaimed event to great fanfare. Project NunwayLA was an instant hit, generating over $10,000 for charity. The LA Sisters are at it again in 2014 with this year's theme—DREAMSCAPE: Surrealism in Fashion.
In the tradition of Project Nunway, the sisters challenge participants to create outrageous fashion that embodies surrealism, avant-garde creativity, and over-the-top fashionable art.
Designers are encouraged to create outfits with little to no cash, while stretching the creative mind beyond the fringes. Fashion designers vie for the Top Designer Award, a prize of $500 to be donated to the charity of their choice and bragging rights as top designer!
And who better to walk the runway of this fashion show other than the always-outrageous Los Angeles Sisters of Perpetual Indulgence. Sister models will be draped in original designer creations and take to the fashion runway in a show that celebrates extravagant, outrageous, thought provoking imagination and visionary prowess.
This year's panel of judges include: Jai Rodriguez, Emmy award-winning host of "Queer Eye for the Straight Guy," and ChiChi LaRue—Hall of Fame Director, DJ and Drag Celebrity.
Project NunwayLA also features an Exclusive VIP Private Party sponsored by The Abbey West Hollywood and Mickys West Hollywood—with Leigh Hetherington—LA Ovation Nominated Actress and RENT alumni.
The event takes place Saturday, November 8 at West Hollywood Park Auditorium, 647 N San Vicente Blvd from 5pm to 12 midnight. For more info: www.projectnunwayla.com.