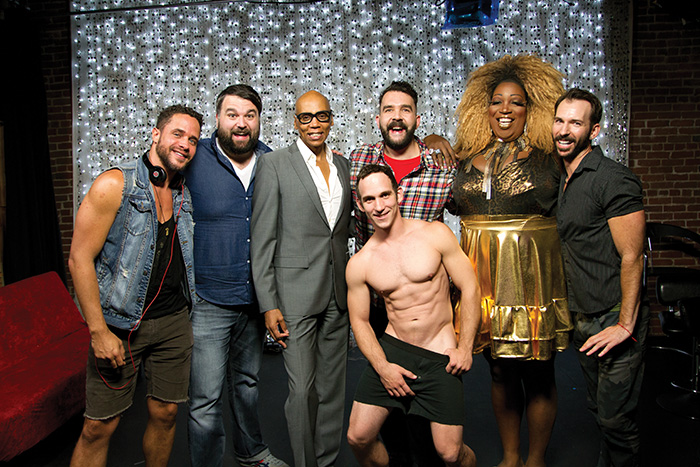 From L to R: Miles Davis Moody, Todd Masterson, RuPaul, Jonny McGovern, Greg McKeon, Lady Red Couture, Walter Delmar
Queens, haters, the struggle to pump out new content and the life of a "gay pimp."
BY PAULO MURILLO
Nobody said the life of a gay pimp was easy. Jonny McGovern has been busy. He recently released a DVD compilation called "The Gayest Video Special of All Time"—a collection of music videos from his album "Gayest of All Time" that includes comedy sketches and naughty behind-the-scenes footage. He also recently launched his web talk show series called "Hey Qween," the gayest talk show of all time, via thestream.tv, where gaylebrity guests like RuPaul, Calpernia Addams, Alec Mapa, Frank DeCaro, Miles Davis Moody and Detox Icunt kiki about current LGBT issues.
"I wanted a place where we were able to really speak freely," McGovern said in an interview with THE FIGHT. "You know, kitchen table talk, because LGBT people know how to keep it very real about what's going on and what we're feeling."
McGovern dishes about queens, haters, the struggle to pump out new content, and the life of a gay pimp.
Why are you doing a talk show?
I knew I wanted to do something where I sat down and talked to people and I called everyone "qween." That was the original thought. I ended up mixing in one of favorite drag queens in West Hollywood, Lady Red Couture, she's a 6'7" big black beauty. I knew I needed somebody who had the energy and the focus.
Why did you name the show "Hey Qween?"
For years, queen has been a term of affection between my friends, "Hey qween! How you doin'?" It's about knocking ourselves down a notch and not taking ourselves so seriously. As gay guys we're all so obsessed with being butch or getting laid, so "hey qween" is able to cut through all that and use that as a term of affection.
You're not very queeny. Is your deep voice a big panty dropper?
Oh well, I certainly use it to my greatest advantage whenever I can (laughs). I'm big and hairy on the outside, but I'm real gay and shiny on the inside.
What kind of feedback is the show getting so far?
The response to the show has been overwhelmingly positive. I think people are looking for a safe place where gay people can make fun of each other and talk about stuff and keep it real.
What do you hope to get from this show?
On television. I think I've done a lot of stuff that's full of sexy content. It's part of my "Gay Pimp" brand. I've always kept things titillating and fun. And while this is still titillating and fun, this is probably the most possible jump into the mainstream, whether it is a network like Logo or if it's on a quirky new network like IFC. Wherever they have a broadcast signal, we'll go.
How do you pump out so much original content? 
RuPaul said in our interview when he was talking about his own career that you have to carve out your own way. In this internet fast world, you have to continually have new content. I'm hoping to carve out my own path. As a gay artist who is super out and super real, it's not always easy, so you have to create your own opportunities and create your own work and do it consistently or else the audience moves on.
Does the Gay Pimp have haters?
I never pay them too much mind, but you have to be ready for people and their comments. People get vicious and crazy. They don't have to see your face or talk to you, so they get super snarks.
Any negative comments that made you go ouch?
Oh yeah, "go kill yourself." I was like, really (laughs)? Because I made a light hearted fun video about sexy nerds, "go kill yourself?" I've become immune to it after so many years, but there were certain times in my life where I was like, "How can you say that? I've put my heart and soul into this." Now I'm like, "Bitch please, move along."
What are some of the biggest challenges in the work you do?
I think being able to find the resources to keep giving stuff on the level to which they expect from me. Even my very first piece, [the video] "Soccer Practice" was high quality and had a great big look and I've had different benefactors and producers who have invested in me, but you know, with a long career comes a lot of different changes. For a period of time, I had to turn to my fans to raise money.
What do you find most rewarding?
I love performing live, doing stand up and songs on stage is probably my favorite place to be and that's one of the reasons why I wanted to do "Hey Qween." I wanted to find a place on a national level to be able to put it out there. If you're watching "Hey Qween" you're seeing what I'm really like and you get to hear me talk to my friends who happen to be glamorous gay celebrities, but it's probably the most authentic version of me. I also like it when guys tell me that they jerked off to one of my music videos. It's not a compliment to me, it's probably to my dancers, but I'll accept it.
---
Jonny McGovern is available for live gigs around the nation. His podcast is available on iTunes. He hosts a Saturday night Slut-a-thon at FuBar and he pens a blog at gayestofalltime.com. "The Gayest Video Special of All Time" is available at createspace.com/367498. "Hey Qween" will be shoot through the summer via thestream.tv.