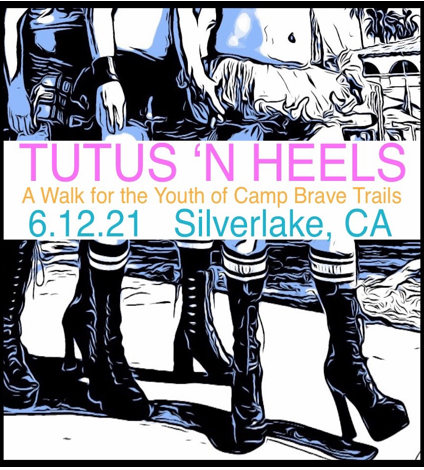 On June 12, 2021 –  what would have normally been the start of Los Angeles Gay Pride festivities, Eagle LA Mr Leather (Colton Stenke) and Payasos-LA will present Tutus 'N Heels – A Walk for the LGBTQ Youth of Camp Brave Trails. 
This is a fun short mile walk in high heels and tutus in Silverlake,  bringing together a large swath of the LGBTQ community. The route includes the iconic Akbar on Sunset Blvd, the world famous Eagle LA Bar on Santa Monica Blvd, and it ends with a celebration lot party at Rough Trade Gear on Sunset Blvd.
"Supporting our LGBTQ Youth has never been more important, and neither has the need for our community to come together, walk for a great cause, have some fun, and express themselves'The Pandemic may have taken our pride parade from us this year, but it has not taken away our pride," says Colton Stenke.
Tickets, and Registration, and Event Information is available  at www.tutusandheels.org