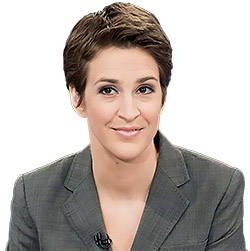 TV host Rachel Maddow climbed to the top of prime time news program charts with her Emmy award winning show all while embracing her sexuality as a lesbian pundit, reports the Daily Mail.
The 46-year-old first openly gay woman to host a prime time news show is a self-described butch lesbian with short hair and black-rimmed glasses who reads comic books, goes to monster truck rallies, loves to fish and describes herself as an "amateur mixologist of classic cocktails." 
"Maddow has taken a truly unorthodox path to stardom and never apologized or changed who she is to get to where she is today," writes Lisa Rogak in her book, Rachel Maddow: A Biography, to be published by Thomas Dunne Books on January 7, 2020. 
"Concerning her sexuality – she's openly flaunted it and considers herself to be an outsider and this has shaped her philosophy and career," Rogak describes Maddow.
READ MORE HERE:
https://www.dailymail.co.uk/news/article-7760179/How-Rachel-Maddow-openly-gay-woman-host-prime-time-news-show.html