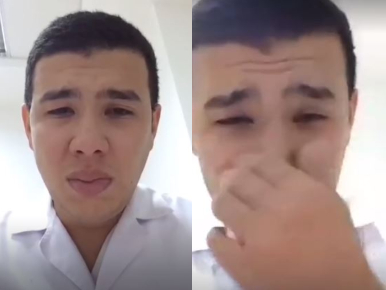 A gay man in the central Asian country Turkmenistan has gone missing after claiming in a heartbreaking video that he might be "forcibly taken away," reports Pink News.
Kasymberdy Garayev has reportedly vanished alongside his mother, father and siblings after police discovered that he is gay. Gay men can be imprisoned for up to two years in Turkmenistan.
In the video (posted below) – seemingly directed at his family – Garayev said: "My dears, forgive me. I've caused you a lot of pain recently. I made you cry.
"I didn't mean to hurt you. If I am forcibly taken away, know that I am innocent. Please forgive me. If I disappear, forgive me."
Since sharing the video, Garayev and his family have vanished.
Garayev's struggle began when he shared his story of being gay in Turkmenistan with Radio Free Europe earlier this month.
READ MORE HERE:
https://www.pinknews.co.uk/2019/11/01/turkmenistan-gay-kasymberdy-garayev-missing-police-homophobia-un-viral-video/?utm_source=feedburner&utm_medium=feed&utm_campaign=Feed%3A+Pinknews+%28Pink+News%29
WATCH: