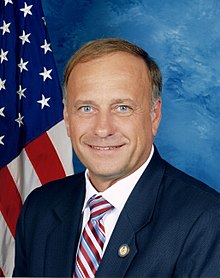 Rep. Steve King (R-IA) once again made bizarre comments in defense of his extremist opinions, reports Zack Ford at Think Progress.
This time, rather than defending white supremacy, he was arguing that laws against abortion should not have exceptions for rape and incest because rape and incest are essential to the survival of the species.
"What if we went back through all the family trees and just pulled out anyone who was a product of rape or incest? Would there be any population of the world left if we did that?" he asked the Westside Conservative Club Wednesday.
"Considering all the wars and all the rapes and pillages that happened throughout all these different nations, I know that I can't say that I was not a part of a product of that."
King's proposed legislation outright banning abortion in all cases was blocked by his fellow Republicans.
READ MORE HERE:
Steve King: Rape and incest are essential to the survival of humanity