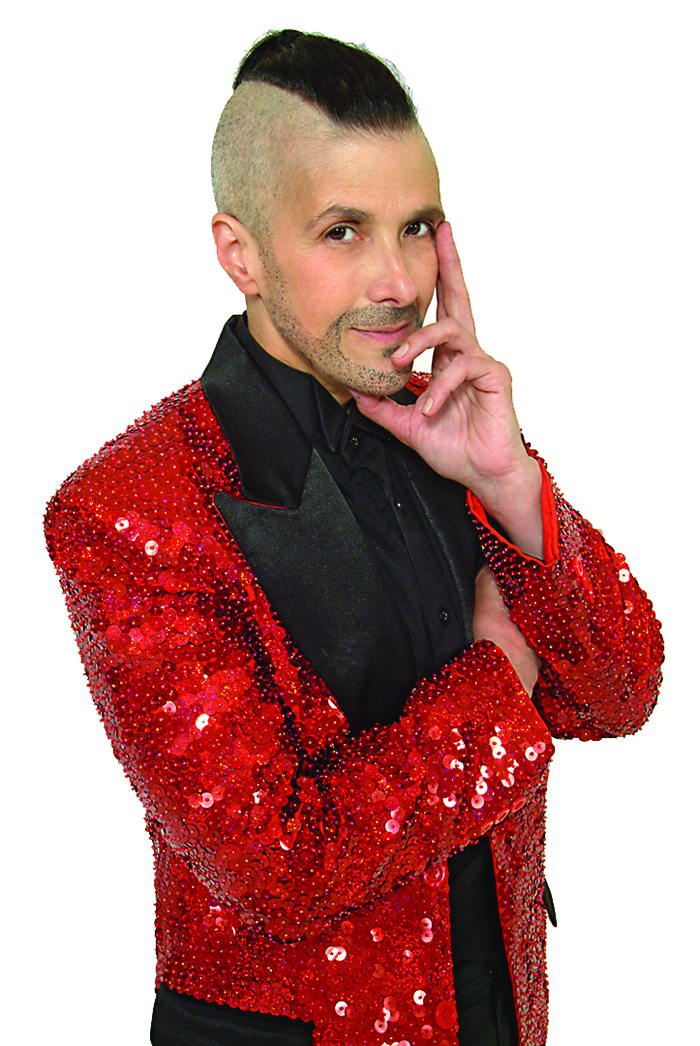 Fudgie Frottage on equality, recognition and why the term "Drag King" doesn't come up in rainbows.
BY Brenden Shucart  |  PHOTO BY LARRY UTLEY
Since the days of the Gold Rush, San Francisco has always been a beacon for those who don't perfectly conform to their society's expectation of gender expression, correspondingly the City has has a rich tradition of gender performance dating back just as far. 
Today, the reigning court of Drag King Culture can be found at the annual San Francisco Drag King Contest (SFDK) —now in its 24th year. Recently I had the opportunity to speak with longtime organizer Fudgie Frottage about San Francisco's Drag history, what makes a quality Drag King, and the secrets the SFDK's success.
Tell us about the first San Francisco Drag King Contest: Where was it held? Who started it? And why?
The first official SFDK was in 1994 at The Eagle and Elvis Herselvis was the MC, and it was organized Mr. Nancy and Karen Murdoch as sort of a one off. But I missed it! I was performing at a club around the corner with the band I had at the time, so I was tied up that night. And by the time I was done, the whole contest was over.
So when did you first become involved?
A couple of years later, '97 Jordy Jones got a group of people together to have a fundraiser for Leslie Feinberg [butch lesbian and transgender activist, communist, and author of Stone Butch Blues which we called "More For Less." I was called in to orchestrate the Drag King Contest because I had a club in '95 and '96 called DragStrip, not Dragstrip 66, but DragStrip. It was a monthly club at the DNA Lounge that was super, super popular, crazy, epic drag performances.
We consider that to be the second official SF Drag King Contest, and that was at the King Street Garage. The fundraiser for Les Feinberg was such a success I decided that I should do it the following year. And I contacted the other people that had done it in the past and they were like "Yeah, just go for it," because they were all busy doing other projects.
This will be the 24th annual SFDK. What do attribute to this event's longevity?
A tight community, hard work and dedication. 
Can you walk our readers through a typical SFDK? What are the categories? How does the flow of the event usually work?
We did away with categories years ago and now just focus on talent. There is an annual theme, but contestants are not required to stick to it. I have added a "lipsynch for your life" segment to accommodate more contestants. 
The format of SFDK is: opening number, MC's schmoozing, deets of the show, all-star numbers, stepping down number of last year's winner, intro the judges, the lipsynch for your life segment, the contestants, then the judges are sent off to deliberate, a crazy burlesque act happens, then the contestants are all brought back on stage with the judges and we announce the 2nd and 1st runner up, and the winner. Sometimes there are special novelty categories like "best drag" or "best newcomer," depending on the whims of the judges. SFDK has always defined itself by not really setting any strict rules, since we evolve better without restrictions. 
Who are this years' judges, and what are their qualifications?
Internationally acclaimed male impersonator, Wang Newton, from NYC, and WangTV; Leigh Crow, the artist formerly known as Elvis Herselvis, who was the only Drag King in San Francisco for many  years; Arty Fishal, SFDK 1998, who also teaches Shakespearean acting; and El Sevan, SFDk 2017. 
There's certain Kings that have really kind of kicked us into gear but Wang Newton is coming in as our special guest again this year and he's a real character. Certainly in our community people know who we are, but there are still people who don't really know what a Drag King is or haven't been to a show. But Wayne travels all over and he hosts lots of shows. I believe he's got the capacity to put the Drag King image up on a level with RuPaul's Drag Race.
What are the elements of a great Drag King performance?
Well, I would say talent, and conviction, and dedication. There's a certain type of personality that just has it, and they've got that stage presence, and they have that skill to be able to project that exuberance out into the audience. And a big part of that is just to really have fun with whatever it is that you're doing.
San Francisco has a rich history of male impersonation performances. Can you walk us through that history? What role did Mona's 440 Club play?
You look back into the history and there were male impersonators back at Mona's 440 Club back in the '40s, or the female Fred Astaire—different people who dressed and performed. Back in the late '90s and early '90s we had clubs like Club Confidential, that was a club that Jordy Jones and Stafford did, and their tag line was "Dress to Impress." It was definitely a Trans man and Drag King scene there. And modern Drag King culture just kind of come out of that club scene with DragStrip, Klubstitute. 
And shortly thereafter, Trannyshack which became Mother, and there were Drag Queens and more Drag Queens but then there was Elvis Herselvis (aka Leigh Crow), who really lit the fire under everybody else who came after that, in my opinion. I mean I know there was a little but of something going on London, and then Del LaGrace Volcano was traveling around to get photographs for the Drag King Book.
I don't have copious amounts of historic knowledge stored in my brain, but Mo B. Dick is working on a website now with Ken Las Vegas, dragkinghistory.com. That's really great because we Drag Kings tend to get overlooked. Recently I started a little campaign on Facebook and Instagram… For Pride month, if you put in certain words they come up in rainbow font. So you can put in "Pride," and "love is love", "LGBT," "Trans," "Drag Queen." But when you put "Drag King," it doesn't come up in rainbows. Like, can we please get the same kind of equality and recognition once and for all here? 
---
The 24th Annual San Francisco Drag King Contest Sunday will be held August 4th, 2019 at Oasis, 298 11th St. at Folsom. Proceeds go to benefit P.A.W.S.—Pets Are Wonderful Support and Rocket Dog Rescue. Learn more at www.sfdragkingcontest.com.