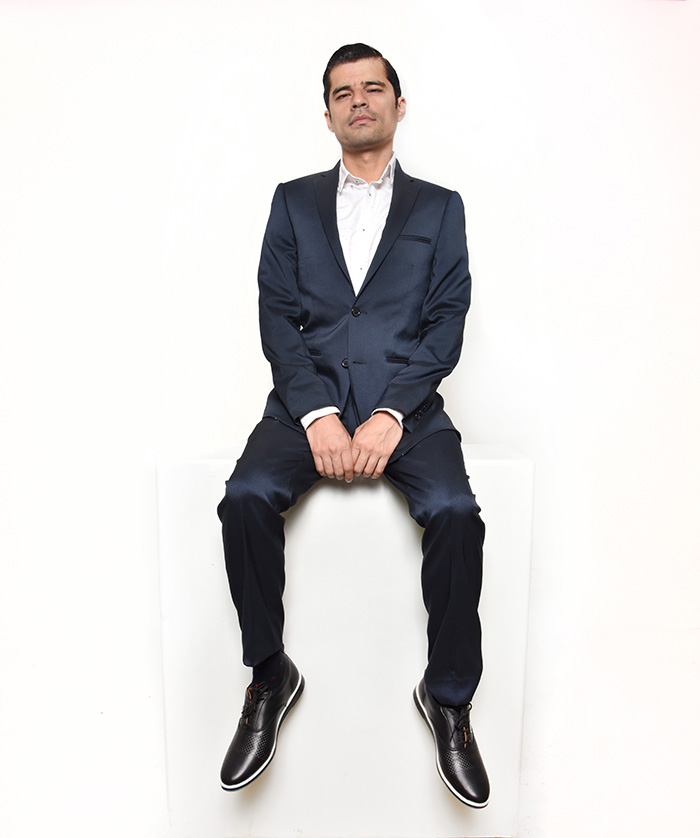 This Gay immigrant artist has created a world where AIDS never happened… if only Facebook would let you see it.

BY BRENDEN SHUCART  |  PHOTO BY JOSE GUZMAN COLON
Imagine a world where AIDS never happened, where our most inspired artists had another 30 years to shape the cultural conversation rather than being cut down in their prime, where our most talented activists have the opportunity to become national political leaders instead of martyrs, and where the Gay community was able to build a utopia—where our elders and youth are housed, STI's have been eliminated, and Queer people of all stripes are able to live openly and in safety—because our population was never decimated in a holocaust that forced us to spend three decades alternatively fighting to live and struggling to pick up the pieces. This is the world of The Fathers Project, a "sci-fi documentary," created by artist and filmmaker Leo Herrera.
Herrera was born in Ascension, Chihuahua, a small border town in Northern Mexico. He moved to the United States with his family at the age of three. They eventually settled in Phoenix, Arizona—hardly a welcoming environment for a young, Queer, immigrant. But in his teenage years Herrera found refuge in his local LGBTQ bookstore where he devoured biographies from adult performers from the '70s and the works of Edmund White. But the book that had the biggest impact was Assault With a Deadly Camera, the biography of Robert Mapplethorpe written by Jack Fritscher, who was his lover and also the creator of Drummer Magazine.
In those pages he found of sort of a utopian moment in Queer history, during the '70s and before AIDS. "I was really fascinated by 1970s Queer culture and the aftermath of Stonewall. So a lot of the stuff that I would read was about the discotheques of New York City and the bathhouse culture in San Francisco. That sort of shaped what my version of what I thought 'Gay' was—sort of hippie, radical faerie, disco cultures. That's why a lot of that is really present in my work."
In 2003 Herrera and his Gay brother Allan moved to San Francisco. These were during the early days of the war in Iraq and San Francisco was organizing some of the largest protests. "It was a very politicized environment and it sort of felt like the adults had just left, or the adults that didn't know what they were doing. I mean, I was 22, so of course it would always feel like that. So it was a really, it was a great time for me to arrive, at the age that I was."
Work on Fathers began in 2012 as a personal, therapeutic distraction from all of the "really rough, inter-community discussions and fights" the the early days of the PrEP rollout. Originally, the project was meant to imagine if there was a cure for AIDS. But once it started to become obvious that the little blue pill was going to eventually mean the end of the boogie man which had lurked under the beds of every Gay man for over 3 decades, Herrera began to wonder… what if it just never happened?
"All of these issues that we have, all the trauma, all of the sexual hangups that we've suffered through, and the self destructiveness; if we just didn't have that, what would the world look like? And would it be something that we could achieve in the future after we got rid of this disease?"
As the political landscape has grown darker, Herrera has found a sort of refuge in Fathers. "Especially as a brown immigrant, it provides an outlet to give myself a chance to imagine a better world than the one we're living in now." 
"It makes us feel a little better in the short run, to see a horrible, worse world. But I think it takes a little bit more energy to imagine it being better. It takes a lot of energy to do that, and it takes a lot of thought, and it takes a lot of processing your own trauma, and the trauma of the survivors that I interviewed. But I think the reaction to the project sort of validated that need that I suspected we have. To sort of give ourselves a break from the news, and from just assuming that the whole world's going to end in a big fireball."
Herrera has been humbled by the overwhelmingly positive reaction from those who survived the Plague Years. "Because the project started with interviews with survivors and research of real events, or real figures, I think survivors have seen the amount of work and thought that goes into it, and the amount of community support that helped fund it and helped promote it. So it's something that folks that lived through the epidemic have been really supportive about."
As for those younger Queers who were witness to the very tail end of the plague years or came from the generation that have largely grown up untouched by the specter of AIDS, Herrera says they get excited because some elements of the film things that we could actually accomplish now. They pick up on the positivity of the project, presenting a vision of Queer utopia, and that utopia is built on the utopias that Queers are building every day in places like Provincetown and Fire Island, and at incredible gatherings and events, and nightlife parties all over the country.
" … It's all filmed in real life events, which have been appropriated for the storyline. So they get to see themselves literally reflected in the piece, representing a generation that was lost. But being filmed in real life moments of utopia that exist right now."
At the end of these episodes, younger people get to meet Gay icons that many didn't even know existed. "A lot of people don't know who Robert Mapplethorpe is, or Halston, or Sylvester. So the fact that they get to watch this seven minute clip, and then get an education with it is something that some of them find really cool. Also is this idea that we aren't taught … If we want to seek our history, we have to do it ourselves, because it's not something that's taught in school."
Unfortunately, what little history we do have access to is shown almost exclusively through the eyes of white Gay men. "That's something that I've had to come to sort of terms with about how limited my education of my own history has been, because of what's available to me. It's also shown me on a daily basis the scope of the loss. Because when you started to expand your view of that history to include people of color or our trans community, you realize how much we will never be able to measure." 
Herrera reveals that he has learned things he'd rather not, popping the bubble of utopia. In those moments the project becomes a challenge, changing his understanding of the epidemic and our culture in general.
"If it weren't for AIDS, I think homophobia would be a lot worse than it is now, if you believe or not. Because it did humanize us. So one of the things that I have to address, and I do it in the fourth episode, is the fact that if homophobia remained on the path that it was during the early '80s, I mean, that's what that Disco Sucks demonstration was. Those events would've remained unchecked."
Of course homophobia still exists in this timeline. Herrera says that he has faced it on "every step in producing Fathers." His crowdfunding campaign was shut down for violating vaguely worded decency rules. He has been denied sponsored posts on Facebook and Instagram, no matter how inoffensive the content of the episode. 
It seems that while the Social Media giants love marching in Pride parades, their algorithms still reject images of two men kissing—and viewership of Fathers has plummeted as a result. The first episode received hundreds of thousands of views, but the most recent only got a few thousand. Even after winning a Northern California Emmy for a doc on the making of the series, Herrera says many of his friends aren't even aware that the latest episode is out.
So, with episode four, Herrera set out to create the most PG rated Leather episode ever. "I was going to trick the algorithms, and it was going to be nothing but double entendres and innuendos, and it was going to be very tongue in cheek." 
But over the last six months Queer people on social media have experienced a severe crack down on the very notion of Queer sexuality, the result of FOSTA-SESTA two bills ostensibly intended to combat sex trafficking, but instead have been used to justify a policing of LGBTQ language and images which until recently would have been unheard of on the internet. "So even if I were to create a PG rated version of the episode, it would still be censored by social media." 
However—while shooting episode 4, Herrera had gone to go visit the Guggenheim where Mapplethorpe's Leathermen pictures are displayed. Later that day he received a last minute invitation to a massive sex event in New York City (which must remain nameless) and granted unprecedented access to film it. "I realized that if I really did want to pay tribute to somebody like Mapplethorpe, I either had to go big or go home, and there wasn't going to be a middle ground. I was dealing with the same battles that he dealt with."
He reached out to his network on Facebook to ask if there was an X-rated version of Fathers, where they would watch it. Some recommended OnlyFans, or PornHub. But with those sites you can't link to them, you can't promote them, you can't take ads. Then he was contacted by a good friend who works at www.kink.com, who said, "We'll give it away for free, and we'll give it a home, because we're sick of the crack down and we want to do something artful, and we'll have a safe space for you to do whatever you want as long as we have consent from the performers."
"So they decided to host it and sort of make a big deal out of having the first arts piece and be sort of permanently held. All you have to do is sign up for an account, which is free, and give them your email. But you know, we give Facebook so much more than that. The sex episode of Fathers was able to be created without having to think about censorship, which was super liberating. To film a fisting orgy, which Mapplethorpe would've loved, to represent his Instagram, there's just so many levels to that."
Episode four will be the second to last episode of Fathers created by Herrera. He has enough funding and film for one more to be released, fittingly, on World AIDS Day. After that, Herrera would like pass the project along to others, especially Trans and filmmakers of color, "so that they can show us their versions of utopia."  
---
Follow The Fathers Project at www.iftheylived.org.