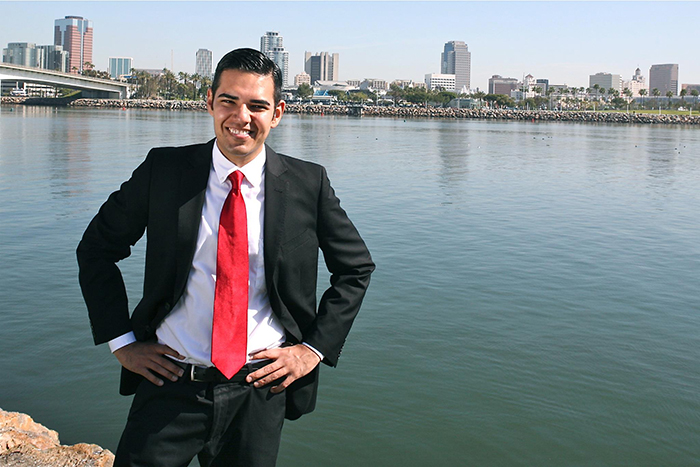 An interview with Long Beach Mayor Robert Garcia. Pride, trans equality and making sure young people know they are not alone.
BY MARK ARIEL
This year Long Beach Pride is celebrating the 50th anniversary of Stonewall. As the first openly gay mayor of your city—can you reflect on how the LGBTQ community has evolved since that time.
We've come such a long way, I really think it's a great time to be part of the LGBTQ community. To experience the victory for marriage equality, to be elected the first openly gay mayor of Long Beach, to see an openly gay man running for president, to see LGBTQ support clubs in high schools, gay characters in movies and TV, it's a historic time for freedom and it's exciting.
This last year, my husband and I got married in a beautiful historic church that was overflowing with friends and family. We felt totally supported. I've officiated several weddings of same sex couples right in my office at City Hall. I think we need to celebrate all that tremendous progress.
---
"As a city, Long Beach always stands for equality and we want to make everyone feel welcome. Pride is one of the ways we do that."

---
But it's easy to forget that just 10 or 20 years ago, most political leaders opposed marriage equality, LGBTQ kids were almost completely isolated, we didn't have hate crime protections—it was just a very different situation. Before Stonewall, gay rights were not discussed politically and sadly that's still the situation in many parts of the country and other parts of the world. We are seeing a backlash against trans equality that's very concerning. So we have to keep pushing and we have to support people who are still fighting for protection from discrimination and their basic equality. I think that's part of being gay right now—that we have to be in that struggle.
What still needs to be done to ensure a better future for LGBTQ kids?
I'm very concerned about our trans community—they really need our support. I think we have to push at the places where discrimination is still legal. We need explicit federal legislation to protect people in employment, housing, adoption—everywhere we as Americans agree that discrimination is wrong. That's got to apply to sexual orientation and gender identity.
Why do you feel Pride festivals are still necessary?
Pride is one of the biggest events we have in Long Beach because people love coming together, celebrating our freedom, and being in a place where everyone is welcome. But, it's also important for young people to know they are not alone, to see that we can be gay and celebrate that openly, to know they have allies. As a city, Long Beach always stands for equality and we want to make everyone feel welcome. Pride is one of the ways we do that. I think in places where equality isn't always supported, places where LGBTQ folks may feel isolated and unsafe, pride is literally a means of survival for the gay community. We were in the shadows too long and we have to make sure that doesn't ever happen again.
When and where did you attend your first Pride festival?
The first pride festival I went to was actually the Long Beach Pride Parade and I must have been about 25. That makes me feel old! It was amazing to be somewhere where I felt completely welcomed and I never forgot that feeling. Making sure every young LGBTQ person can feel that is exactly why pride is so important.