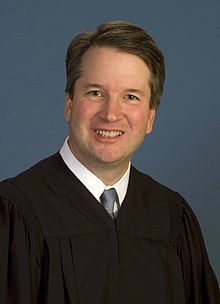 (Photo: Brett Kavanaugh)
Details on a claim of sexual assault allegedly perpetrated by Supreme Court nominee Brett Kavanaugh are now coming to light, thanks to out journalist Ronan Farrow and his colleague Jane Mayer of The New Yorker, reports The Advocate.
Reports on Thursday indicated Senator Dianne Feinstein forwarded a sexual misconduct claim leveled against Kavanaugh to the FBI. Farrow and Mayer now offer details on what exactly Kavanaugh is accused of, reports The Advocate.
In a letter first sent to California congresswoman Anna Eshoo, and then forwarded to Feinstein, a woman says that Kavanaugh and a male classmate of his at a Jesuit high school in Maryland attempted to sexually assault her at a party in the early 1980s.
"Kavanaugh held her down, and… attempted to force himself on her," according to the report. "She claimed in the letter that Kavanaugh and a classmate of his, both of whom had been drinking, turned up music that was playing in the room to conceal the sound of her protests, and that Kavanaugh covered her mouth with his hand."
She managed to escape, according to her letter.
READ MORE HERE:
https://www.advocate.com/crime/2018/9/14/ronan-farrow-reports-brett-kavanaughs-alleged-rape-attempt