JOE NIVENS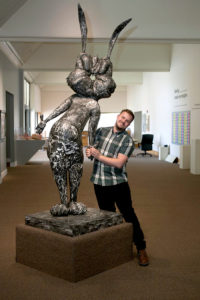 A mix-media artist from Tuscola, Illinois, Joe Nivens is a graduate of the Experimental Animation department at the California Institute of the Arts (CalArts) with a focus in Stop Motion Animation as well as an MA recipient from Eastern Illinois University. In addition to his studies he has worked on productions for Stoopid Buddy, Lift Animation and Netflix. Currently he is an MFA candidate in sculpture and mixed media at LSU. 
Nivens: "My interests lie in the examination of life's many transitions and fluctuations as well as the resulting sadness, rage, uncertainty and joy that are a part of that process. Influences from children's literature, pop culture and the exploration of identity inform the foundation of my work. Through a blend of animation, puppet fabrication and design aesthetics my work deconstructs an array of characters and worlds that allow me the ability to step outside the limitations of traditional art making and the boundaries of our own personal narrative."
---
Links: Instagram: @joenivens. Shop: www.joenivens.bigcartel.com.