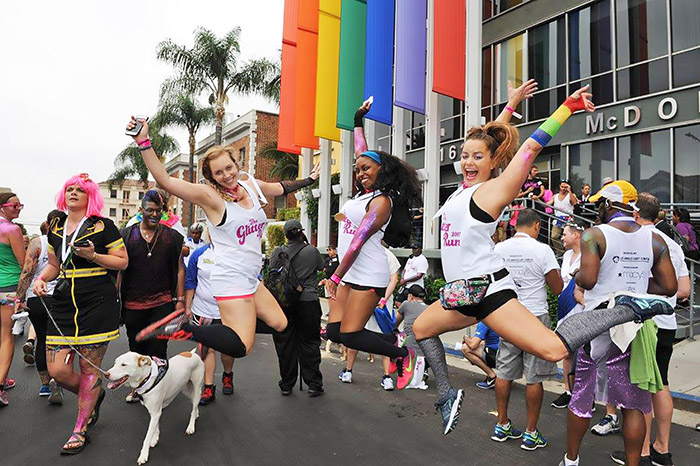 LOS ANGELES
Center Holds First Glitter Run
The LA LGBT Center attracted thousands of participants and spectators to its very first Glitter Run 5K run/walk on Hollywood Boulevard last month. Participants were covered in glitter while traveling through seven glitter stations along the route. The runners/walkers were treated to a "Dazzling Dance After-Party" at the end of the route, with special lighting to showcase all the glimmering bodies. Participants also received a commemorative medal and a Glitter Run towel. No fundraising was required for Glitter Run. The tax-deductible registration fee supports the Los Angeles LGBT Center.
WEST HOLLYWOOD
WEHO Promotes Equality 
The City of West Hollywood has signed on to the Mayors' Compact to Combat Hate. In doing so, the City of West Hollywood joins with more than 240 cities and mayors across the nation to stand up against hate, violence, and intolerance.
"Recent events in Charlottesville are not only heartbreaking, they are unacceptable," said City of West Hollywood Mayor
John Heilman. "We cannot let the forces of racism and hatred take us backwards. Cities across the nation, such as West Hollywood, must lead the way in fighting extremism and violence. In joining the Mayors' Compact to Combat Hate, we redouble our efforts to make our communities safe for everyone and we deepen our commitment to promoting the fundamental principles of justice and equality that define our country and our communities."
---
For additional information about the Mayors' Compact to Combat Hate, visit www.mayorscompact.org.
PALM SPRINGS
LGBTQ Film Festival Celebrates 10 Years
The Palm Springs LGBTQ Film Festival (Cinema Diverse) is celebrating its ten-year anniversary with The Untold Tales of Armistead Maupin— a new documentary about the writer of the Tales of the City novels that were set in San Francisco from the mid-seventies through 2010. Armistead Maupin is scheduled to attend the opening night event on Thursday, September 21. The festival will run through Sunday September 24 at the Camelot Theatres in Palm Springs. Best of Fest celebration will take place the following weekend at the Mary Pickford Theatres, with screenings Friday, Sept. 29 and Saturday, Sept. 30.
---
Tickets are available at cinemadiverse.org.
VENICE
Petition To Save Pride Lifeguard Tower
The Pride Flag Rainbow Lifeguard Tower at Venice Beach, erected for Venice Pride this summer, is scheduled to be go back to its original baby blue color on September 8. Activist Colin Campbell started a petition to make it a permanent art installation. L.A. County Supervisor Sheila Kuehl is in support of the idea and will introduce a motion asking the Department of Beaches and Harbors to preserve the Venice Pride Flag Lifeguard Tower forever. The motion is asking to make it a memorial to late Los Angeles City Councilman Bill Rosendahl, the first openly gay man elected to the council. Rosendahl, who represented the 11th District, which includes Venice, retired in 2012. He died in 2016 from cancer.
---
To add your name visit, change.org and search for Save the Venice Pride Flag Lifeguard Tower.
LONG BEACH
AIDS Walk Relaunching In November
The LGBTQ Center of Long Beach announced that it plans to relaunch the AIDS Walk in November. The 2017 walk will be held on Sunday, November 5, 2017, and will kick off at 8am at Bixby Park and finish at The Long Beach Museum of Art. Walk registration is $25. Those 12 and younger pay $10. All proceeds from AIDS Walk Long Beach benefit Long Beach organizations serving members within the local community.
---
To learn more, visit: centerlb.org/aidswalklb/