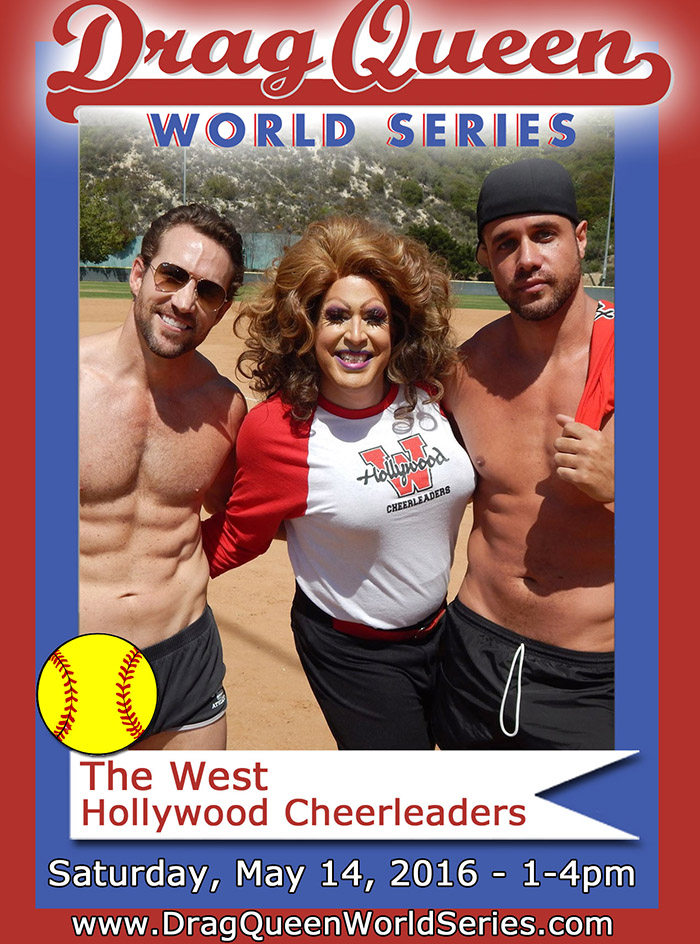 Charity event benefiting The Life Group LA: The LA Sisters of Perpetual Indulgence vs. The West Hollywood Cheerleaders.
BY ORLY LYONNE
The West Hollywood Cheerleaders return to defend their title from The LA Sisters of Perpetual Indulgence in the 5th Annual Drag Queen World Series on Saturday, May 14, 2016 in a fun filled, comedic and antic full game!
All money raised at the event will go to The Life Group LA (www.lifegroupLA.org) a coalition of people dedicated to the education, empowerment and emotional support of persons both infected and affected by HIV/AIDS so that they may make informed choices and decisions regarding their healthcare and personal well-being.
Life Group LA's 5th Annual: "Drag Queen World Series" will be held on Saturday May 14, 2016 from 1-4pm at  Glendale Sports Complex (2200 Fern Ln Glendale, CA 91208). Tickets cost $10 pre-sale; $15 at door and are on sale now at www.dragqueenworldseries.com.
The National Anthem will be sung by recording artist, Pepper MaShay.
This year's colorful commentary will be by two Chico's Angels', Chita Parol (the smart one) and Frieda Laye (the "friendly" one). These two heavenly creatures are part of Chico's Angels—a trio of beautiful and comedic Latina drag queens who make up Chico's Angels, along with Kay Sedia.
Raffle items include a $5,000 grand prize; a week away for up to 6 people at the Hideaway Cove "Pu'u Poa" on the beautiful island of Kaua'i, Hawaii.
---
For more info go to: www.dragqueenworldseries.com.