BY JOE FARAGHER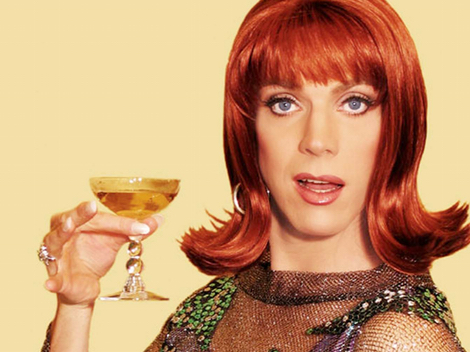 "I'm nervously eating Triscuts. Actually, they're Trader Joe's Woven Wheat Wafers. And if there's one thing I like more than Woven Wheat Wafers, it's alliteration." It's no surprise that the minutiae of a snack cracker began my conversation with the legendary Coco Peru. Her attention to the comedy that lives in every little detail of our day to day is, after all, what supplies her with a seemingly endless wealth of material. I had just watched Coco slay "Le Bal" last Friday, March 4th at the Ace Hotel Theatre, where her stand-up set and song had the audience roaring and left a huge impression, in spite of the act's brevity. "I was nervous about performing for what I felt like was an audience that wasn't all familiar with me, number one, and number two it was such a big giant space," says Coco. "I went home that night very happy." I mean, she got a standing ovation for perhaps 15 minutes of performing. I think they call that Star Power.
Coco Peru is known on an international scale largely for the YouTube videos in which she carries out seemingly banal activities, like finding the cheapest loaf of Panatone ("Coco Peru Goes to Walgreens") or hunting for what has now become a sort of grand LGBT symbol for persistence and disappointment, Celestial Seasonings Tension Tamer Tea (hearing Coco Peru rattle off the full title of this tea in her hypnotic Bronx cadence, by the way, is everything). However, Coco's real prowess is on the stage. If you haven't seen Coco live, go to a damn show (www.cocoperu.com) because you haven't been living your life correctly. These videos are but a glimpse into the brilliant humor and talent that radiate off of that classic red wig. You may be able to pick one up at Target, but good luck matching that hutzpah. At "Le Bal," she told the story of a dildo falling from the sky while she walked the streets of New York, segueing into anecdotes from being a young gay boy in an un-accepting society. Yes, we've all heard the stories about life being difficult for Gay youth in the 70s, and the 60s and the 50s and the 40s and virtually every generation including today, but Coco's stories really do strike a unique chord. The power of her humor comes from the warmth of her heart. LGBT rights, Gay Homeless Youth—these are things she truly cares about, not just causes she pins to her jacket like Boy Scout patches.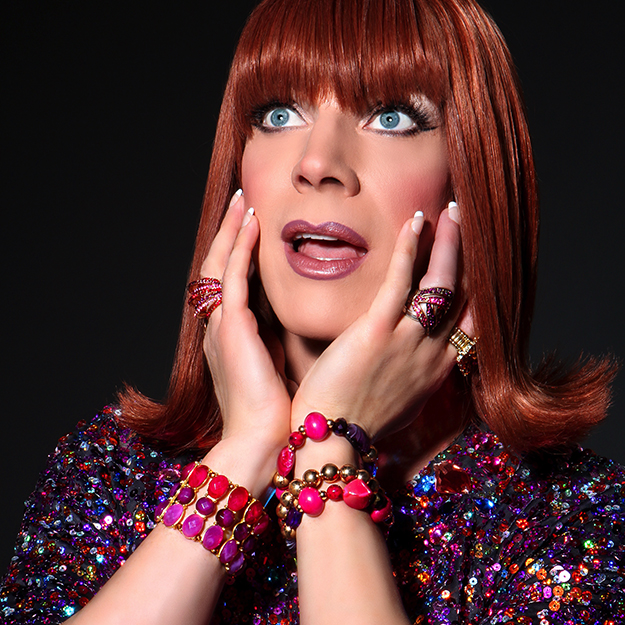 Enter Conversations with Coco. This project, which was conceived by the LA LGBT Center, has been going on as a live stage event for over ten years and features Coco interviewing celebrities (past faces include Jane Fonda, the late Bea Arthur, Allison Janney and Liza Minnelli). Even if the show is picked up, a portion of the profits will continue to benefit the LGBT Center. The filming of the pilot episode is set to take place on August 13th and will feature Lily Tomlin. Shortly after our interview, Coco's kickstarter reached its initial goal and has adjusted to a stretch goal of $95,000, to which you can contribute here: https://www.kickstarter.com/projects/thoughtmoment/conversations-with-coco-tv-pilot-starring-miss-coc
I spoke with Coco about her dedication to homeless LGBT youth, her love for the stage and youn
g Gays.
What is it about LGBT homeless youth that speaks to you as a cause specifically? 
Well, when I first brought my show to the center it was an immediate love affair between me and the people that work there. When I heard that there was a homeless youth center there I was sort taken aback that wait, that actually exists? because my experience coming out to my family, and this was back before there were gay characters on TV and gay movies were peopler—it was a different time. I read books on how to come out to your parents.
Oh?
Yeah! There was a book called "How to Come Out to Your Parents!" It was a self help book with step by step, how they might react. How to have a support system in case they do reject you. So I did all that homework, and then I came out to my parents and they were wonderful. They had me late in life, they were from the WWII generation, so it wasn't like they were hip to the gays, but they were wonderful and even today my mom when I talk to her about that program or whenever I do a show at the center, some of those kids that have been rejected, they come to see the shows and they're so cute and my mom even just cannot wrap her head around how a parent can reject their child. So I guess because I had a different experience, I can't image what that feels like to have your parents actually kick you out of their house. That rejection is so huge my mind can't wrap around it, and for that reason I am very passionate about that program and giving back to the community. And counting your blessings, right?
Where did the idea for Conversations with Coco come from? 
It came from the (LGBT) Center, actually. It was originally an event where I was interviewed by someone else. It was a benefit for the center and I thought "Sure I'll talk about myself for an hour." It was very successful and so they wanted to continue it and they asked me to be the interviewer. I said "sure" and then we were trying to think of who I could possibly interview that people would want to come see. At the time I was friends with Bea Arthur. I was so nervous but I called her and I asked and she said "yes" and she wasn't excited about it. Completely horrified. But she was very committed to the gay community an she was very  committed to gay homeless kids as well. When she passed away she left a large sum of money to  a facility in New York City for homeless gay kids. So it all kind of came together and we did it. It's not easy getting celebrities to commit to doing it, but the wonderful thing is when they do and when they've had the experience they have all left the stage very moved and have all asked me "Why isn't this on television?" My response is always "I don't know, you tell me!"
What do you think makes these interviews different and special? 
I think, number one, who doesn't love to sit in front of a couple hundred homosexuals who are so adoring? That's always a winner. I also think my interest in these people isn't to humiliate them or find out some secret or to get that interview that nobody else has gotten before. My main focus really is to celebrate these people. To celebrate their lives and their careers and their craft. And I think they feel that. Also I think there's just something about, I don't know, being in drag that's very…I don't know, I can't explain the drag aspect of it. But I think the fact that I'm in drag is at first scary on some level to the person I' interviewing. And then they're so pleasantly surprised when I'm very warm and just being very real with them that they just sort of fall into that "ok this is what this is going to be like and this is wonderful and they sort of just ease into it.
Yeah, there is that element of drag that's a little like, "oh" at first but can make people feel comfortable in a weird way once they get used to it? 
I think Jane Fonda was the best example of that. She came and was a little reserved when I first met her backstage and you could tell she was just like… "What have I gotten myself into. Ok, well…I'm here." and you could feel her sort of trying to navigate and figure out what this was all about, and then as soon as she got up on stage and felt the love that was being generated in  that room she completely opened up and was wonderful.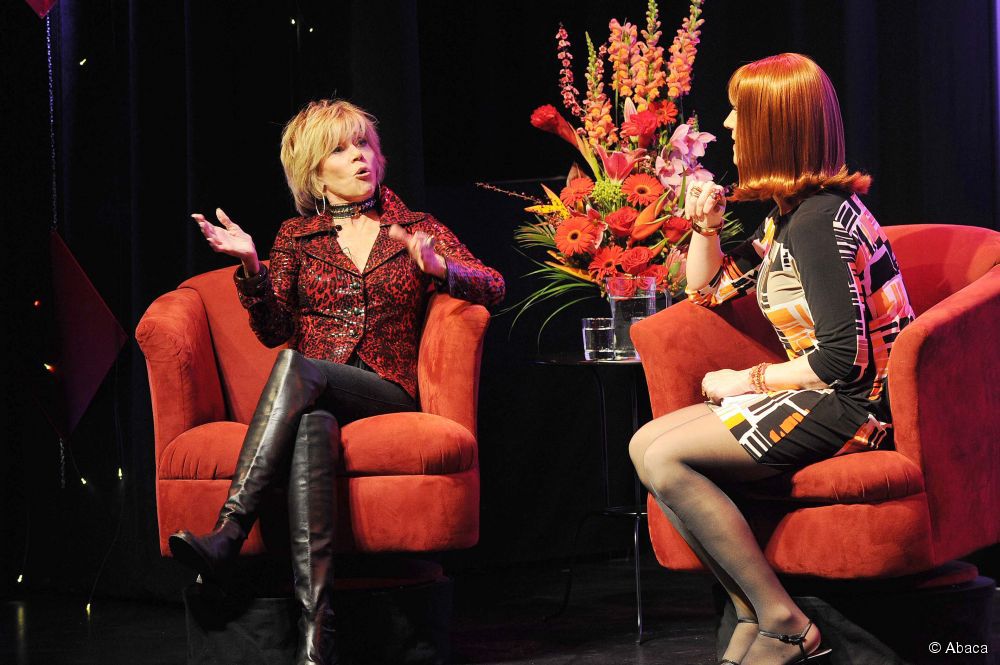 A portion of the profits will continue to benefit the LA LGBT Center even if it gets picked up—is that something that's already been worked out? 
That is something that's already been worked out in the contract between me and my producers and the Center. All of us that are involved at this level believe that the center has to stay involved and the center came up with this concept originally and I wouldn't have it any other way.
Going back to you and performing, what is your favorite thing about being onstage and doing shows that are live?
I guess it's that energy that's created between me and that audience. From what you've said about that evening I think you felt that energy and you responded to it so much that you felt you needed to talk to your friends afterwards or even interview me, and that's a thrill for me. I have to say, I've always had a sense of humor growing up. But my gay experience growing up in the Bronx was not an easy thing. I was bullied terribly growing up and it affected both my education and my self esteem, and no matter how many accolades I've gotten over the years and the great people I've met and the traveling—and I'm so grateful that I lasted for 25 years—no matter what, that damage is always present. And I think I work through it still to this day by being Coco and connecting to other people.
I think that the younger people, these kids that are teenagers that are writing to me about my videos—I think what they're responding to on a deeper level is the fact that I'm going out in the world, in fluorescent lighting, in a store in a neighborhood clearly where I don't belong and I don't give a shit about what anybody thinks. And I think young teenagers who are so filled with anxiety and constantly having to check Facebook to see how many likes they got or someone to friend them, I think they enjoy watching someone who just doesn't give a shit. When I went to school it was just a school where maybe you felt like an outcast but kids these days get it from all angles. My husband's always worried that now in my newer shows I address my age I address getting older and he's always worried, like "maybe you're putting a gap between you and a younger generation" and I said to him, I said "I don't think so, I think that the younger generation—they're really looking for role models and they're looking for people who have had experience and are keeping it real with them." I've really enjoyed growing older and my relationship to a younger audience.
You said at one point, as a joke, in "Le Bal" that you "resent" the younger generations of Gay kids for their ability to be open and out in their childhoods. It was an interesting moment because it was so funny, but also seemed kind of super honest? Could you expand on that a little bit? 
I mean, I'm not really resentful, I'm going for a laugh there and it's not what people expect to hear in that moment where I'm trying to be sincere, but I think that's the truth of Coco. I like to be honest about things and if we're going to be honest, yes there is a a part of I guess any older generation that looks back who sees a younger gay kid being self-expressed at thirteen years of age out at school, dressing in drag wearing make up, having friends where you think wow I wish, I wish that had been my experience. I joke about being resentful. The fact is, I'm so grateful that the world has changed and the way it's changing. And I'm grateful that I was a part of that change. I don't take of course full responsibility, but I feel like I did the best I could given my circumstances to make the world a better place for a younger generation.
You, too, can get involved in helping the LA LGBT Center's many programs, including those that benefit homeless gay youth: http://www.lalgbtcenter.org
Be sure to check out cocoperu.com, where you can get tickets to see her live shows!