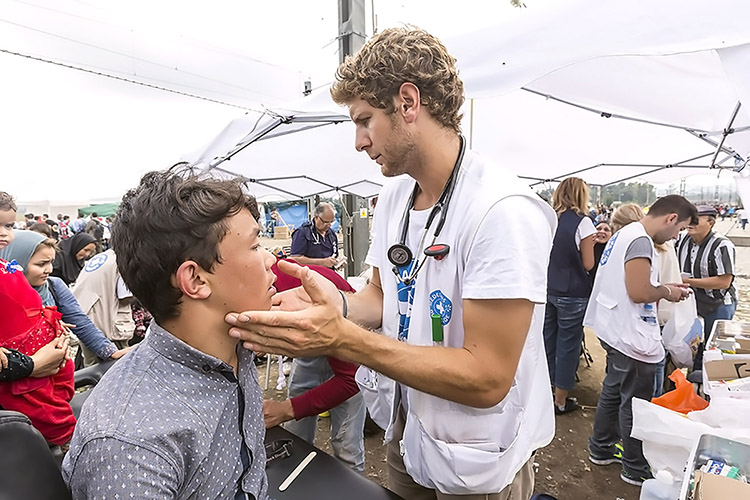 Protecting Refugees 
Germany plans shelters for gay refugees amid attacks; The Netherlands, Austria teach asylum seekers about LGBT rights.
BY VICTOR MELAMED
Support groups in Germany are planning special shelters for gay refugees and migrants after incidents of abuse and violence amid the country's record-setting immigration, reports NBC News.
The Lesbian and Gay Federation in Germany (LSVD) says several incidents of discrimination and physical assaults against gay refugees have been reported in the past year.
"Berlin officials identified 95 cases in the German capital alone between August and December 2015, mainly in refugee homes," Markus Ulrich from the LSVD told NBC News.
It comes as Germany grapples with an unabated refugee influx, with several thousand migrants arriving every day. Many have fled countries such as Iraq and Syria where ISIS militants are targeting or killing gays.
"We have been alerted to a growing number of insults and violent acts against queer refugees, including cases of rape," Marcel de Groot, manager of Berlin's gay counseling center, Schwulenberatung, told NBC News.
The support organization estimates that "between 5 and 10 percent of the 70,000 refugees that arrived in Berlin last year were gay, lesbian or transsexual," he added.
Schwulenberatung has had to find emergency accommodation for up to 70 people, mostly gay men, in private Berlin homes because "they had strong fears in the refugee shelters or became victims of attacks," de Groot said.
In related news—people living in asylum centers in The Netherlands are to be given lessons about the Dutch LGBT community, the country's education minister announced, reports Newsweek.
In an interview with daily newspaper Trouw, Jet Bussemaker pledged to introduce educational measures to make it clear that anti-gay discrimination will not be tolerated in the country.
The ministry plans to supply asylum centers with LGBT teaching materials—currently provided to Dutch secondary schools—within the next few weeks and it will be up to each individual center to provide lessons and discussion groups.
"We should not be naive," Bussemaker told the newspaper. "Refugees come from countries where gay rights are not a matter of course and where women's rights are not always accepted."
In late 2015, Dutch authorities decided to relocate five LGBT refugees—three Syrians, one Iraqi and one Iranian—out of an asylum center after they were spat on and attacked by other refugees, Amsterdam-based daily newspaper Het Parool reported on December 4. The attacks compromised their safety, forcing them to stay in their rooms.
The ministry plans to involve Dutch LGBT organization COC Nederland in the project. The group welcomes Bussemaker's decision, but feels that more could be done by the government. "While we are very happy about the initiative, more needs to be done to introduce harsh and accurate punishments when LGBT asylum seekers are abused," COC spokesman Philip Tijsma tells Newsweek.
"The government needs to take responsibility for the vast numbers of people being singled out for being LGBT," he added.
Meanwhile, the Austrian Interior Ministry produced a "refugee guide" aimed at providing some basic guidelines and regulations for arriving refugees, including a cartoon explaining that "same-sex partnerships are allowed in Austria. Women may live together with women and men with men."