Filmmaker Scott Bloom on the deadliest hate crime ever committed against the LGBT community.
By Scott Bloom
Dates of significance:
June 24, 1973 an arsonist set fire to The Upstairs Lounge, a gay bar in the French Quarter of New Orleans. That evening 32 people lost their lives in what is the deadliest hate crime ever committed against the LGBT community. Some of the victims' families were so horrified that one of their own could actually be gay; a handful of bodies went unclaimed. "They're fruits. Bury them in fruit jars" was a common joke heard about town, especially among law enforcement. The community was shattered.
January 2, 1989 after many miles and numerous attempts, I get sober for the final time – so far. It was a drunken spiral downward toward my bottom—a journey of a dozen years and thousands of miles that took me to very pits of despair and suicide. God saved me and I've spent nearly 27 years rediscovering my passions, my purpose and myself. I've also gained a sense of empathy and compassion for others that was missing from the previous incarnation of me. I have hope.
Today I'm a filmmaker with a passion for gay history. I've released three award-winning documentaries – Original Pride: The Satyrs Motorcycle Club, Call Me Troy and Out For the Long Run.
Our latest project, Southern Knights, was inspired by the tragedy at the Upstairs Lounge. As a native of New Orleans, I was privy to many of the tales of those left behind after the fire and the courage it took to heal from this senseless tragedy. Over the years, these stories haunted me and I was aghast that the memory of those who died faded so quickly from public consciousness.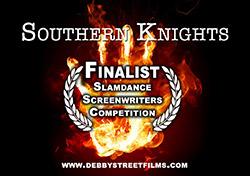 I wrote the first draft some 25 years ago while I was working in a tape vault in Studio City and I put it in a drawer. I would bring the script out from time to time over the years to tweak or edit it. The story has matured, as my recovery has. It's taken on deeper meaning as I've worked through my own issues of loss and trust.
Recently, my dear friend Myra Turley and I have partnered together to polish this story into a tale that pulls at the heart but offers the sense of hope that was gifted to me. Southern Knights is a journey of redemption. It's about taking your life back after a senseless tragedy committed at the hands of the hateful and ignorant. It's about family of choice and it's about unexpected miracles.
And so we have begun the journey of bringing Southern Knights to life on the big screen. And as I've learned over the years, I'm here asking for your help.
Please go to our IndieGogo page—igg.me/at/southern-knights and donate as much or as little as you can. It all helps us get to where we need to be. And secondly, tell your friends and family. They tell me that's how this crowdfunding thing works. Tell them in person or in a note, experience says this works best. But tell them!
Additionally we are still seeking interested investors to partner up with. Making movies is not for the faint of heart, but a project of this importance is worth taking a risk. We've mitigated some of that risk by writing a solid screenplay. A recent reading of the script to a local New Orleans audience elicited both laughter and tears—from a reading. Imagine how powerful this story will be when the film is complete.
Many, many thanks for helping in any way you can.
---
For more info visit igg.me/at/southern-knights.