Drag correspondent Pickle on "Le Bal" at Ace Hotel DTLA last month: "The whole evening could be described as relentless orgasmaticness."
BY PICKLE  |  PHOTOS BY SARA TOLLEFSON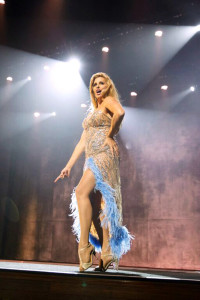 It almost looks like there should be mummies hanging from the ceiling," remarked the gorgeous Candis Cayne, appropriately calling attention to the fact that a drag extravaganza was being held in a space that looked a little more suited for Dracula's piano recital. The beautiful Theatre at the Ace Hotel with its Spanish Gothic architecture has the remarkable quality of being both incredibly ornate and austere all at once. Don't get me wrong, the dark grey backdrop and industrial DJ booth featuring the charismatic Kim Anh, was the perfect aesthetic choice for housing the evening's glitzy divas. These are champions of glamour who have no need for backdrops or moving sets.
Take-away? Le Bal was the shit.
The whole evening could be described as relentless orgasmaticness. Ms. Cayne was, obviously, a fab host. She has a melodious voice and a  nudge-nudge show-bizzy tone that is still earnest and warm, somehow. "I'm not having a nip slip, so that's good," she noted, splaying herself on the lip of the stage, "My parents are here." Side-note: her hair looked as if it had been spun from gold and gently passed through the water that trickled from Venus' shell as she emerged from the sea.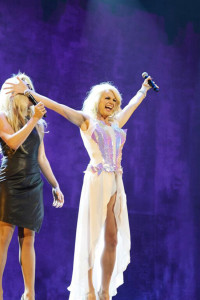 The acts were stellar. Willam's Spanish version of the iconic "Boy is a Bottom" was yet another testament to her literally infallible comedy and showmanship. Mid-song she charged through the aisle wildly shaking a tiny blue maraca, her Louboutins tearing up the carpet and I couldn't help but think, "If you don't like Willam, you're literally a moron." Same with Courtney Act. Her hypnotic accent and unspeakable beauty is divine to experience.
The lights in Ricky Rebel's act almost gave me a seizure (he looked like an extra from "Zenon: Girl of the 21st Century") but I still lived for it. And I guess he likes girls, too. Or rather, "boys boys boys boys and sometimes girls." Ladies?
Delta Work's numbers are always untouchable. Her sharp, full-bodied lip-synch always gives me goosebumps (plus her hair was so high it caught three separate spotlights).
Mariah Balenciaga brought old-school, stage stomping Paris isn't just burning it's literally a mushroom cloud of FIERCENESS, tearing off her huge, what I'll call "preliminary wig" and gold coat in a reveal that gave me a heart attack. And that was before she cartwheeled into the splits 5,045 times.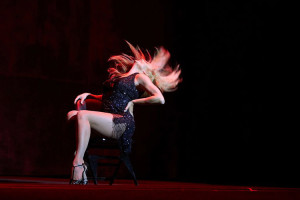 Of course the crowned headliner herself, Raja, who is so creative it makes me want to kill myself, appeared at the end in a glow-in-the-dark Venus fly trap. I thought for a wild moment that someone had (finally) roofied me but then remembered where I was and that I should have expected no less from the queen of fashion herself. A VENUS FLYTRAP. Like, as in, its GLOWING mouth opened and she was there, wriggling her long, tentacle fingers and looking like deities WISH they did.
The incredible performances aside, perhaps my favorite part of Le Bal was the event itself. Tasteful, elegant, fabulous. A crowd of screaming queers and supporters, grinning and having to be pried away from the lobby bar by some very diligent ushers. There's no doubt that the night did take Drag and elevate it to a proper stage, but it also didn't take the chaotic fun and life we love about Drag in its usual context. I mean, the show started an hour and a half late! Thank god. Very few good things in life are punctual. Pickle out.