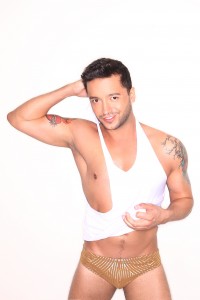 Jeffrey Sanker's White Party Palm Springs celebrates its landmark 25th anniversary by upping the ante with an event line-up of ICONIC proportions April 25-28, 2014. The Largest Gay Dance Music Festival in the World, White Party will electrify the desert as never before with the hottest array of men, music, DJs and superstar talent ever witnessed. "Queer Eye's" Jai Rodriguez is the official White Party Ambassador this year.
(Photo by Adam Bouska).
"What began as a gathering for 300 of my closest friends celebrating the rites of spring 25 years ago, has evolved into 30,000 men from across the world coming together and re-defining the meaning of "DESERT HEAT!'" said Jeffrey Sanker, founder and producer.
An international showcase, White Party Palm Springs has become synonymous with setting the trends that other events follow. In honor of the 25th anniversary, Sanker has planned a non-stop cavalcade of indoor and outdoor parties that will be nothing short of electrifying. Superstars like Lady Gaga, Ke$ha, and Icona Pop have launched their careers at White Party. Keeping ahead of the curve, Sanker will again present the best, new cutting-edge talent, along with an iconic, superstar headlining performer.
For more info visit: jeffreysanker.com.