Los Angeles Mayor, Eric Garcetti walked to City Hall today as part of National Walk to Work Day.
"We spend too much of our lives seated at our desks, in our cars, on the couch," Garcetti posted on his blog lamayor.org. "Walking to work when you are able is good for our health, takes cars off the road and gives us a chance to enjoy our city."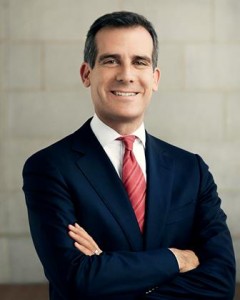 According to Garcetti, great cities like Los Angeles are composed of "teeming corridors of color and life and walking allows the opportunity to appreciate the majesty of the Bullocks Wilshire Building — now the Southwestern University Library — up close."
This morning he also walked past the MacArthur Park Lake and through the Westlake community.
Did you walk to work today?