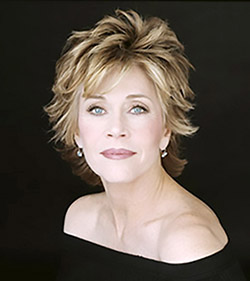 (Photo: Jane Fonda)
The City of West Hollywood will swear-in Lindsey P. Horvath as its new Mayor and John Heilman as its new Mayor Pro Tempore.
An Oath of Office ceremony will be administered during the City of West Hollywood's annual City Council Reorganization and Installation meeting, which will take place this year on Monday, May 18, 2020 beginning at 5:30 p.m. in a virtual teleconference format.
The meeting will be live-streamed on the City website at www.weho.org/wehotv and at www.youtube.com/wehotv.
It has just been confirmed that Mayor Horvath's Oath of Office will be administered by Academy Award-winning actress Jane Fonda.
Ms. Fonda describes herself as a feminist and environmental activist. In 2005, along with Robin Morgan and Gloria Steinem, she co-founded the Women's Media Center, an organization that works to amplify the voices of women in the media through advocacy, media and leadership training, and the creation of original content. Most recently, she has been recognized for her climate change leadership on Fire Drill Fridays.
Mayor Pro Tempore Heilman's Oath of Office will be administered by West Hollywood City Clerk Yvonne Quarker.
Openly gay country music singer/songwriter Chely Wright will perform the national anthem, and there will be video presentations from former presidential candidate Pete Buttigieg and V. (formerly known as Eve Ensler, the writer of The Vagina Monologues).
The regularly scheduled City Council meeting will follow the installation, and a live DJ set by DJ Asha will conclude the evening.
Community members may view the agenda and may live-stream the meeting by visiting the City's website at www.weho.org/wehotv.