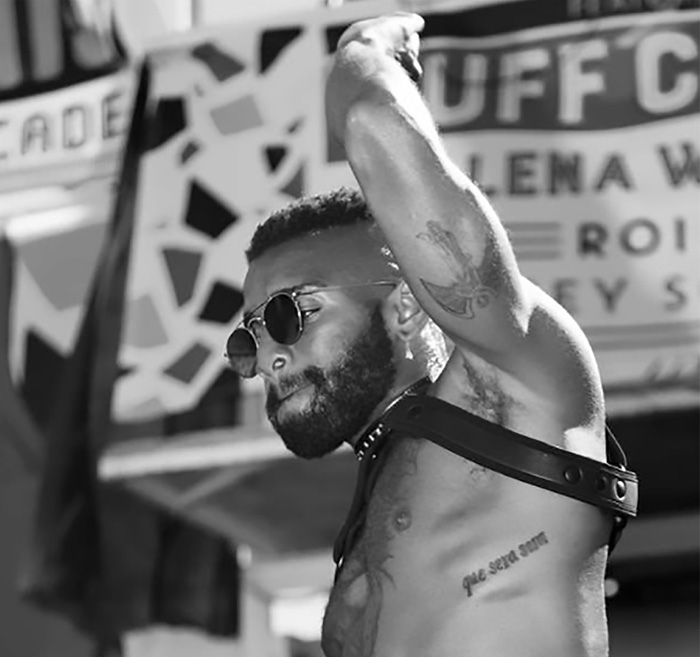 Folsom Street Events (FSE) is announcing that this year's Up Your Alley, Folsom Street Fair, and related events will be held virtually rather than in-person.
The board of directors and staff will produce virtual events to celebrate the historic fair weekends by staying socially connected while physically distant. The new events will be on the weekends of July 26, 2020 and September 27, 2020. For more information, visit folsomstreetevents.org.
In making the decision, the impact of the COVID-19 pandemic on public health and the response needed from Folsom Street Events was clear. Interim Executive Director Angel Adeyoha commented, "We feel it is the ethical and the responsible choice to make before fair planning and production proceeds any further.The safety and wellbeing of our attendees and community members are our top priority. It was a hard decision to cancel our in-person events this year, but we hold ourselves and our events to the highest safety standards. Our team of staff and board members take their responsibility to our communities incredibly seriously."
Folsom Street Events has observed a standard of care for LGBTQ2S+ community members since its roots in the AIDS crisis. This decision upholds that legacy by choosing to gather virtually until it is once again safe to proudly take to the streets.
"We know that our events are a beacon of self-expression and visibility for so many," Adeyoha added, "and we look forward to remaining a vibrant San Francisco tradition this year and for years to come."
"I know the cancellation of in-person celebrations of the Folsom Street Fair and Up Your Alley is disappointing, but it is best for the health and safety of everyone involved," said SF Mayor London N. Breed. "I want to thank Folsom Street Events for their careful consideration of the current situation, and for making a decision that is in the best interest of public health but still allows people to celebrate virtually."
2020 will mark the 37th year of Folsom Street Fair and 35th year of Up Your Alley. Combined, the annual events bring hundreds of thousands of fairgoers from around the world to the historic San Francisco South of Market (SOMA) neighborhood and more than $200 million to San Francisco businesses.
"Folsom Street Fair and Up Your Alley are important legacy street fairs that contribute to San Francisco's unique cultural fabric and economy. While we will miss the fairs this year, I commend Folsom Street Events for taking this proactive step to protect public safety," said Maggie Weiland, Executive Director of the San Francisco Entertainment Commission.
"Folsom Street Events is demonstrating true leadership by making the tough decision to cancel their 2020 events," said Race Bannon, writer, organizer, and activist. "While these cancellations are a sad outcome of the pandemic, our city can take pride knowing that we also care deeply about the health and safety of our fellow citizens and those who visit our amazing city. We'll be back. Our community will rise like a phoenix, more beautiful and vibrant than ever."
Folsom Street Events will continue to support its community of partners, including local beneficiary non-profits, sponsors, exhibitors, and artists. The board of directors and staff look forward to providing connection and service to the entire FSE family during this crisis. Folsom Street Events urges all those we serve to stay safe, stay inspired, and take care of each other.