A
Happy

Accident
New York-based duo Sofi Tukker releases Treehouse, an outstanding debut album.
BY PAUL V. VITAGLIANO
You might not know Sofi Tukker by name yet, but I bet you know their music Apple Watch featured their debut single "Drinkee" (that went on to rack up over 40 million Spotify streams) which received a 2015 Grammy nomination for "Best Dance Recording." And oh yeah: it was sung in Portuguese! 
Millions of fans are in love with their sassy and cunning Euro-flavored electronica vibe.
The language barrier meant little to millions of fans in love with their sassy and cunning Euro-flavored electronica vibe. It should also be noted that having a non-English, Grammy nominated track (from a band that has yet to even release a full LP) is no small feat. Rather, it speaks to the band's inherent talent and ability to attract audiences from a plethora of cultural and linguistic backgrounds.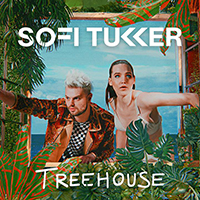 And one could also say this upstart duo (Sophie Hawley-Weld and Tucker Halpern) are basically a happy accident. They met at an art show and never really intended to make music. Yet here we are with their outstanding debut album. Sophie mainly handles the cooing lead vocals, but Tucker's throaty deliver on the electro-funkin' "Batshit" is crazy good, too. Other standouts include earworm-extraordinaire "Best Friend" (with The Knocks, Nervo and Alisa Ueno and featured in the iPhone X ad), the Le Tigre-esque "My Body Hurts," "Energia," and "The Dare" (sung in both English and Portuguese), and a soon to be in every drag queen's lip-synch repertoire playlist: the flawless "Baby I'm A Queen." Color me hooked!