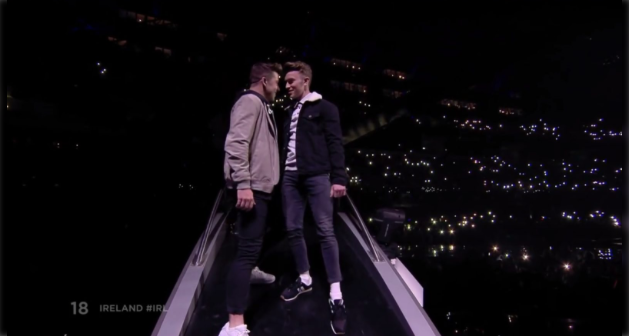 (From Ireland's Eurovision Entry "Together")
Chinese broadcaster Mango TV has  been barred from televising the Eurovision Song Contest, after censoring two performances during Tuesday's semi-final, reports Pink News.
Ireland took part in Tuesday's Eurovision Song Contest semi-final in Lisbon, where Irish entrant Ryan O'Shaughnessy took to the stage to perform the track "Together," a moving ballad about a failed relationship.
The entry featured interpretive dancers Kevin O'Dwyer and Alan McGrath re-enacting a same-sex love story, earning praise from audience members.  That performance was censored from the broadcast of the contest in China.
Eurovision fansite ESCToday reports that the broadcaster also censored footage of rainbow flags being waved in the crowd at the event, using a crude 'blur' tool to obscure the LGBT rights symbol.
READ MORE HERE:
https://www.pinknews.co.uk/2018/05/10/china-banned-from-broadcasting-eurovision-after-censoring-same-sex-dancing/