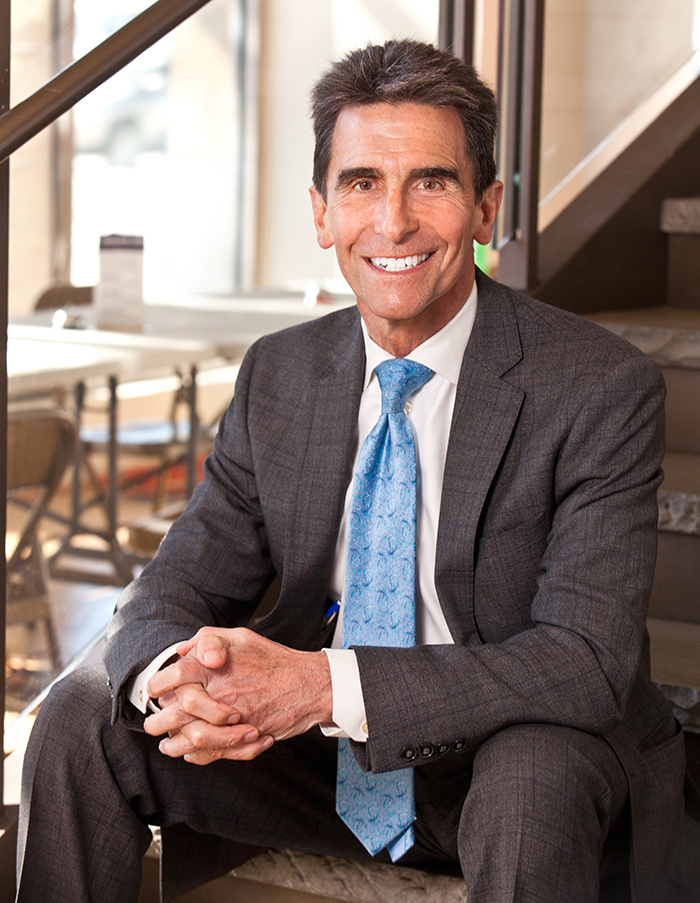 California's first gay state senator leads the pack to be SF's next mayor. Leo Herrera interviews Mark Leno.
BY LEO HERRERA  |  PHOTO BY DUSTI CUNNINGHAM
The first time I saw Mark Leno, he might as well have been a gay unicorn. I was 22 and had just arrived to San Francisco from Phoenix, AZ, one of the most conservative places in America. The thought of an openly gay politician was something that was not ever in the realm of possibility where I came from.
 I would see Mark around the tiny city, in a leather harness at some Folsom event or presenting an award of recognition to a drag queen at an underground event. It was one of the things that let me know I had moved into a true queer mecca. 
The first time I met him, I came up to him and very nervously introduced myself, I muttered something about him being a big inspiration. He was very gracious but I walked away wishing I had been cooler. 
Washington and the White House are spewing a lot of hate and upending a lot of lives… So the fact that I would be the first openly gay person as mayor … is a direct rebuke of our president."
As I became more educated in the history of the city, I discovered that Mark was part of a long lineage of politicians that dated to Harvey Milk, who encouraged all queer men running for office to celebrate their LGBT roots. I'm 36 now, and since that first meeting, I have seen so many queer politicians in SF. From Tom Ammiano, to Bevan Dufty, Kim Alveranga to Tom Temprano. 
MONEY VERSUS CULTURE
This is a city that demands an authenticity from its political figures that I haven't seen anywhere. Last year, I worked as a campaign manager for Tempranos' successful election, I saw how the sausage is made in SF politics, which is accurately described as a "knife fight in a phone booth." 
The city is small, currently drowning in wealth and homelessness, and with a history of the war of money versus culture. This mayoral race is a result and symbol of this everlasting war. The race was kicked into overdrive when the controversial mayor Ed Lee passed away suddenly, a somewhat tragic figure who started off as a fierce housing advocate and ended his career universally blamed for selling the city. 
After decades of living in the shadow of the assassination of Mayor Moscone and Harvey Milk, who was heir apparent to be Mayor, the idea of this city having its first openly gay mayor is thrilling and overdue to many. I thought of what a 20 year old from a conservative town would feel to move here and see a queer man holding such a high position of power. I was more than a bit nervous for the interview, but even in the frantic energy of his palatial headquarters in the heart of the Castro, Mark was once again gracious and calm, a man whose political career speaks for itself and who is aware of his position as a symbol to many.
[We need to be] building more affordable, below market-rate housing. Only 10 percent of SF can afford to buy and only 16 percent can afford to rent market rate housing. So when we're talking about affordable housing, we're talking about
all of us."
IDENTITY POLITICS
Identity Politics have played a very strong role in this election, not always for the best. It seems like some of your opponents take many chances to point out your white cis-gender privilege as "more of the same." As a QPOC, even I find this exhausting. In what ways can identity politics be good? How can seeing an openly gay political figure still affect queer kids in places far away?
So this is all happening at a time when Washington and the White House are spewing a lot of hate and upending a lot of lives. I'm thinking of the trans folks in military and who aspire to be in the military. Numbers of hate crimes against our community. So the fact that I would be the first openly gay person as mayor has great symbolic value and is a direct rebuke of our president. 
Don't say his name.
I don't say it (laughs). So I get it has significant importance. In fact I was asked by a reporter when I declared I was running, if I thought my sexual orientation was an issue in my campaign. I told him I didn't think it would be, but I'll tell you in the queer community, it is a really big deal. It's not why I'm running for mayor, clearly I'm running to address the issues in front of everyone in San Francisco, but yes it would be a significant accomplishment at this time.
Historically, the queer movement has mostly been viewed through the lens of gay men and lesbians. Our trans family has often been left behind, many times because of our own oversight or ignorance. What is something that you've learned from or about the trans community in the last 5 years that you'd like to share with them now?
I was very fortunate when I was on the board of Supervisors twenty years ago, to have met some folks who inspired me to create a Transgender Civil Rights Implementation Task Force, and I underscore the word implementation. Because the Human Rights Commision in SF had held some hearings on the needs and challenges of the trans community in the 90s and reported on the incredible challenges they faced in access to education, housing, employment and healthcare. It was a lovely profound report that was put on a shelf and nothing was done with it. We took it off the shelf and we had this task force review it and make a recommendation to my offices to what we should be attending to and the task force recommendation became the first ordinance of its kind anywhere in the country: equal access to the county's health plan to what I think was 17 transgender employees out of a force of 28,000. It was an ordinance that impacted a few dozen people but since then really change the way that health policies are written. I don't know that there is at this time any private health insurance policies that still have what was very common then: transgender exclusion, anything trans related will not be covered by this health plan. Because of our local ordinance that changed. 
So that was a very empowering experience to work with the community and to change the way health plans were written. So subsequently when I went to Sacramento I had the opportunity to author a bill 2003 that added gender identity to our Fair Employment Housing Act and got to work with the community again and was successful and that amendment made it illegal in CA to discriminate against gender identity, and that can impact anyone gender non-conforming. It's been a real honor to work with the trans community.
HOUSING AFFORDABILITY
One of the largest losses of the current housing market is the ability for very young people to move here without needing to have an astronomically well paying job. What would you like to tell that 16 year old from a small town who dreams of moving here in a few years?
It won't be anything original but I'm reminded of Harvey's comment of giving hope. That's why I'm in this race, to address the interlocking challenges of homelessness and housing affordability and doing what I can with the legislature and hopes of being Mayor to put an end to no-cause eviction. Step one is to keep those in a home in their home and to make sure that our rent control housing stock, which is our most valuable affordable housing stock because every unit we lose is irreplaceable. Step two is making sure we are building more affordable, below market-rate housing. Only 10 percent of SF can afford to buy and only 16 percent can afford to rent market rate housing. So when we're talking about affordable housing, we're talking about all of us. Have hope, do what you can to stay in school because it's the most important key to future success.
We have tendency to look back at the "Golden Age," "Things were better before…" What is something about San Francisco that is much better now than when you first moved here and what aspect of our present will be seen as a Golden Age for a future generation?
We have clearly made a lot of progress since I arrived in 1977 which is the year Harvey was elected and then of course a year later the tragedy of his assassination along with Mayor Moscone. 
It was the 70s—I was a part of a massive wave of queer immigration so it was liberating, thrilling, empowering and invigorating. I was 25 at the time and then running right into the epidemic.  We had to save ourselves and put in place life-saving community-based organizations that came to support everyone going through the epidemic. We were getting virtually nothing from the federal government or the president at the time who didn't recognize AIDS until 25,000 of us had died so it was a very maddening time and we had to rise to the occasion.
So many decades later—we now have institutions that we built ourselves and sustain ourselves along with our allies. High points are the LGBT Center here in SF that did not exist. I had the privilege and opportunity to be an early board member and took on the task of raising the early money for it as chair of the capital campaign, so I value and treasure and am very protective of that Center. It's too critically important to let it slip through our fingers. We can never take it for granted. Also the accomplishment of the organization called Open House—to build affordable housing for our seniors as we age. Our seniors face additional challenges, because of our inability to marry and create families, we're just catching up—our community has so many needs. 
But—back to your previous question—I want to make sure that we make progress on issues of homelessness and housing affordability. I don't want to look back 10-20 years from now and think "Oh those were the good days… we only had 3500 people living on our streets and our income and  wealth disparity was only that bad." 
We have a lot of work to do to make sure the status quo now is not something we ever look back upon as something good. We have a lot of progress to make.