PUMP Restaurant
A hidden oasis just a few feet away from the West Hollywood strip—that feels like a million miles away from the world.
BY ROXIE PERKINS
The lights. The music. The crowd. These things all could describe any great party yet they are also the predominant impression one gleans from an evening spent at Pump in West Hollywood- and exactly what made it the perfect place for my girlfriend and I to celebrate our one year anniversary.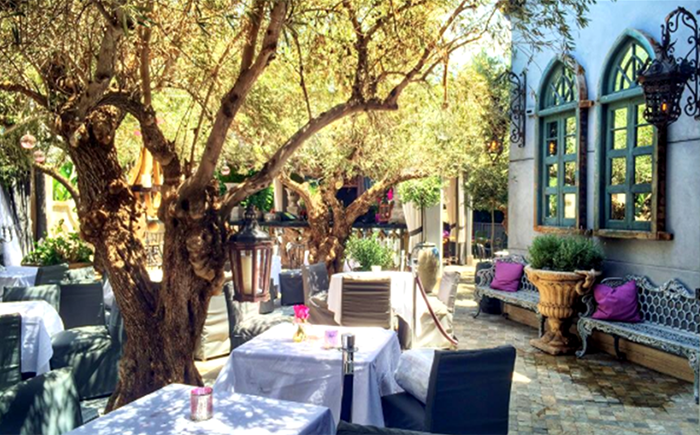 Owned and operated by Lisa Vanderpump, the restaurant is the crown jewel of everything that makes her brand so successful: the feeling. Though it seems unlikely that everyone at Pump that night was also celebrating an anniversary it certainly felt that way. Seated on the open air patio with string lights hanging off vines, fresh flowers surrounding the tables, a stone fountain burbling away, and music coursing through the air- the experience of dining at Pump feels like being inside a decadent, fantastical party from a Baz Luhrman film.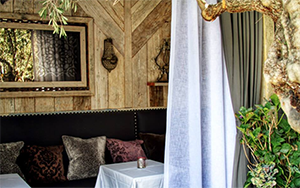 In an especially Luhrman-esque turn, Pumps' signature birthday treat is a large, eruptive, sparkler served in a shot glass to the great delight of its unsuspecting recipient. With delighted yelps accompanying its arrival, this ritual of celebration occurred at least eight times over the course of the evening, almost like a clock counting down to our own impending celebration.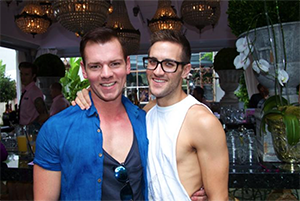 This fantasy evening of course would not be complete without the meal itself. The drink menu is punchy and filled with unique names like "Pump-tini" and "Bye-Felychee". The menu provides enough options for variety and every dish is a well-executed classic presented with flair in line with the restaurants' own eclectic glamour: wonton chips feather out dramatically from the perfectly rounded tuna tartare, cocktails shine in jewel tones like rose quartz and Lucite, and finally—a silver tray of desserts decorated with fresh cut flowers is presented for you to select your last treat from.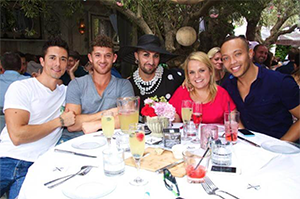 As the evening ended and my girlfriend and I clutched hands across the table amid the shouts of delight coming from another happy couples sparkler appearing, I could feel our own laughter being added to the larger mosaic of celebrations occurring among the ivy and bulb lights of this hidden oasis just a few feet away from the West Hollywood strip that feels like a million miles away from the world.