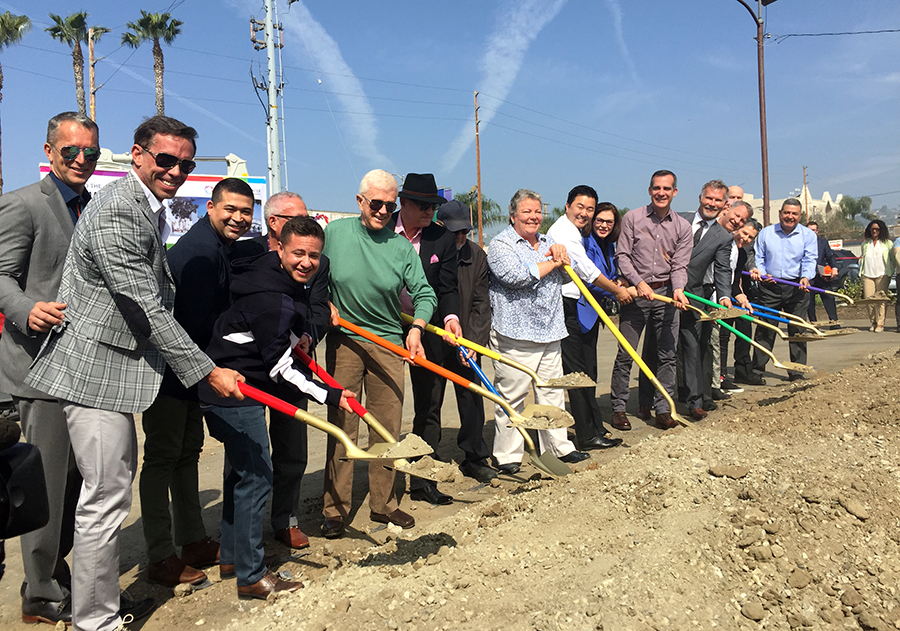 – Photos & Text by Paulo Murillo –
The Los Angeles LGBT Center hosted a groundbreaking ceremony to start construction of The Center's Anita May Rosenstein Campus this past Saturday, March 18. 
The ceremony was attended by Los Angeles Mayor Eric Garcetti and Councilmember David Ryu, who were both speakers at the event.
Lead donor Anita May Rosenstein was also in attendance. She was joined by family and friends.
The Center received the largest gift to an LGBT organization by a living person in the amount of $7 million, thanks to Rosenstein's philanthropic efforts through the Anita May Rosenstein Foundation, Wilbur D. May Foundation, and the Anita and Arnold Rosenstein Family Foundation.
In addition to her $7 million donation, Rosenstein also presented The Center's CEO Lorri L. Jean, with a check for $125,000 for a naming opportunity and a second check for $125,000 for a naming opportunity for The Center's chief of staff Darrel Cummings. Rosenstein wanted to ensure that their names and legacy are well known on this project.
Rainbow-colored shovels were used for the actual groundbreaking. Rosenstein was presented with a golden shovel that will be displayed at the campus main building when it opens.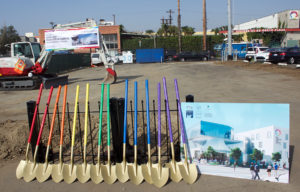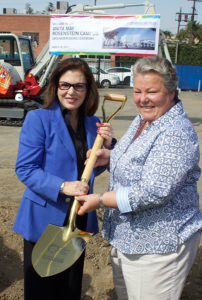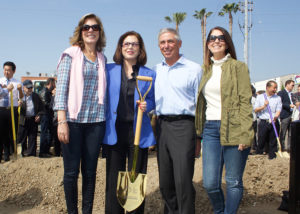 The Anita May Rosenstein Campus will be a first-of-its-kind complex in Hollywood. It will offer 135 units of affordable housing for seniors and youth, 100 beds for homeless youth, new youth and senior centers, and much more.
The campus will be located at 1116 N. McCadden Place, directly across the street from the Center's The Village at Ed Gould Plaza.
"This is the realization of such a long-term dream for The Center to finally break ground on this facility," the Center's chief marketing officer Jim Key, told THE FIGHT. "We've been thinking about and wanting to do this for so many years, so to see it actually happening is emotional, it's exciting and I'm choking up just thinking about it."
The campus was designed by Leong Leong who was recently honored by the Architectural League of New York as one of this year's "emerging voices" architectural firms and brought to fruition by executive architects Killefer Flammang (2016 California Council AIA Firm Award winner).
The campus is scheduled to be completed in early 2019 as the Center marks its 50th anniversary.
For more information on the LA LGBT Center, visit lalgbtcenter.org.