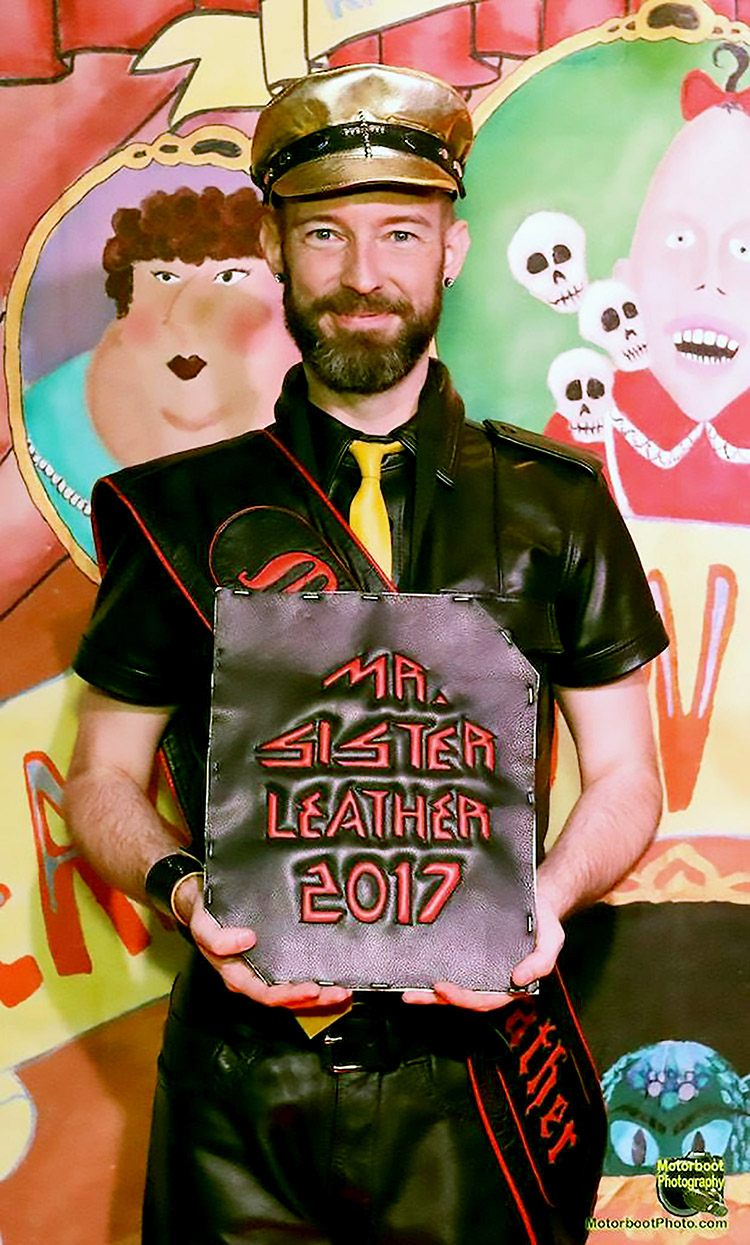 The Sisters' new titleholder, David Sanford, on sobriety, kink and exploring possibilities. 
BY MARK ARIEL | PHOTO BY ROBERT GREEN, MOTORBOOT PHOTOGRAPHY
The results of The Los Angeles Sisters of Perpetual Indulgence contest are in—David Sanford is the new Mr. Sister Leather 2017. The Sisters' first titleholder—Robert Blackmon—received his patch as well (he graciously donated his sash to the ONE National Gay & Lesbian Archives).
"Winning this title means that I have a greater forum to showcase the causes and charities I support. It also allows me the opportunity to meet other title holders from all over the world and to learn more from them and grow as a person and as a leatherman," states Sanford in an interview with THE FIGHT.
"I was introduced to the community a few years ago when Tom Pardoe ran and won the title of Mr. Eagle Leather," reveals Sanford. "I was immediately fascinated and turned on by so much of what I saw. At that time though, I wasn't in a place where I felt I could pursue my interest. Then I met and became close friends with Daniel Blair who was already involved and I watched him and followed him to events. He lives his life out loud and that gave me the courage to dip my toe in the water. And then I found the pups and they were so friendly and encouraging. Once I began getting into that headspace, I started to meet other people and getting to know them. I asked questions and sought advice and made my way along the path. And now, here I am, being interviewed by THE FIGHT as a new title holder! It's still so surreal."
Sanford, who grew up as an only child in Fresno, confides that he "was always the token sissy boy in school. Everyone knew I was gay even though I didn't. Things got better in high school where I found a select group of friends who didn't care about my being gay or not. They just saw a nice guy. I told a few friends here and there with no problems. I didn't officially come out until after high school. I had already met the man who is today my husband and he encouraged me to tell my parents. They didn't even blink an eye. They were just happy that I was happy."
Sanford, sober for over eight and a half years, says that he credits "everything that has happened to me in the past couple of years to my sobriety. I wouldn't have ever been able to walk up on that stage and be honest and open about who I am if it wasn't for the serenity and relationships I've found by being sober."
"As Mr. Sister Leather, there are two things I'm specifically passionate about," states Sanford. "One is education in our community. Not only talking to people who are new and curious or anxious to get involved but also people who have been a part of for a long time who might need some clarification on how some groups operate and what we're about. The other thing is that I want to show other people who are sober and wanting to participate in leather and kink that it's a possibility. I've been approached by many sober men in recent months and they've expressed how my journey has inspired them to continue to explore themselves. Sometimes the kink that they have engaged in was directly related to their addiction.
I'm here to show that it's very possible to be clean, sober and kinky. I also hope to share some love with some of my favorite charities such as the Alliance for Housing and Healing who put on the annual Best in Drag show every year. I have been involved with them for the past six years and I really believe in what they stand for and what they do for the HIV/AIDS community."